Posted September 15, 2017
By JBFC Marketing Volunteer Dotty Battel
Join the JBFC's creative community, learn from supportive faculty, and take advantage of our state-of-the-art equipment and resources. Register now—space is limited.
Course highlights include:
FILM STYLE AND FORM: THE ART OF CINEMATOGRAPHY  
8 Mondays: Sept. 25–Nov. 20 from 10:30 am–1:30 pm
Cinematographers, otherwise known as Directors of Photography (DPs), provide a film with its unique look or visual identity. In this class, you will get the chance to view and discuss the work of acclaimed DPs in such films as The Red Shoes and Moonlight. Enjoy a lively, faculty-moderated debate after each screening. No prior film theory or analysis required!
TASTE OF THE LAB: UNDERSTANDING STORY
3 Wednesdays:  Sept. 27, Oct. 4 & 11 from 6:30 pm–8:30 pm
"Storytelling is central to human existence" (Ron Howard, filmmaker/JBFC Board member)
We all have a story to tell, but learning how to be an effective storyteller in a variety of mediums is challenging. This introductory course will give you the opportunity to use our filmmaking equipment, explore new technologies, and learn the basics of good storytelling. At the end of this three-session course, students will tell a hands-on story of their own in one of the mediums explored.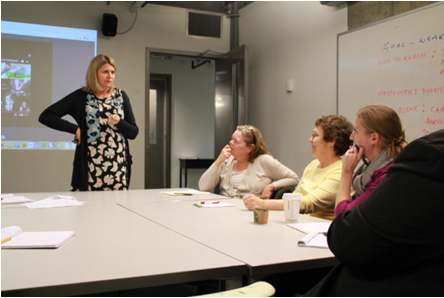 BRAND YOURSELF: GET SAVVY ABOUT SOCIAL MEDIA  
5 Thursdays: Sept. 28–Oct. 26 from 6:30 pm–8:30 pm
For better or worse, social media plays a huge role in today's world. Whether you're a writer, filmmaker, or arts professional, this class will help you discover how it can be used to build your personal brand. You will learn to create and curate a profile across a variety of social media platforms including Facebook, Snapchat, Instagram, and Twitter.
Visit our education website HERE for more information and to register.