Creative Culture REMIX Artist-in-Residence: Haley Anderson
As a part of our ongoing interviews with Creative Culture Artists-in-Residence at the Jacob Burns Film Center, we recently caught up with REMIX Artist-in-Residence Haley Anderson to talk about her current work. 
On December 4, Haley took part in a Q&A moderated by JBFC REMIX curator Saidah Russell, following the screening of Control.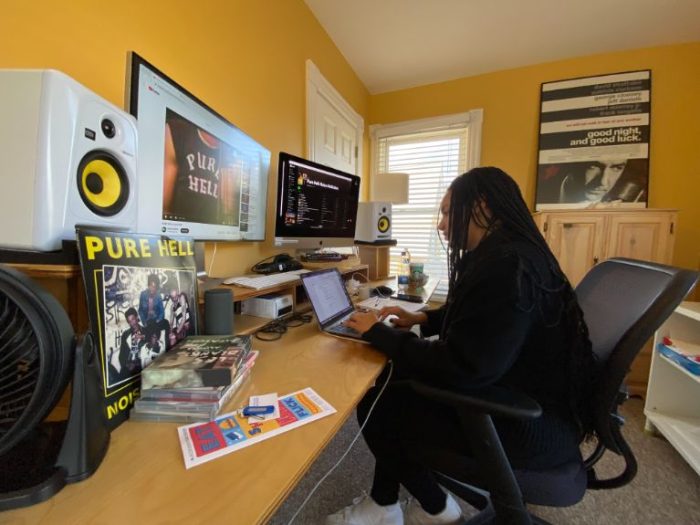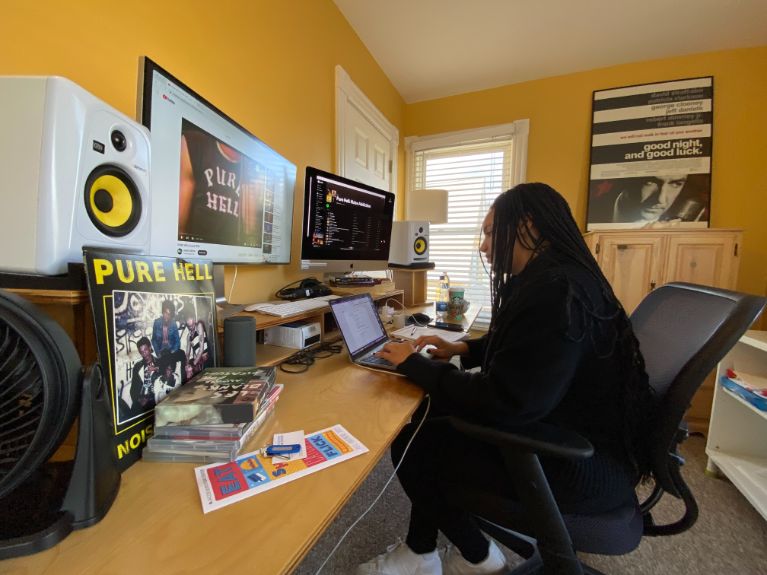 1. How did this residency come about, and how did you learn about the Burns?
Saidah Russell, JBFC's REMIX curator, contacted me out of the blue. I believe she had seen a film of mine at a festival. I initially learned about the Jacob Burns Film Center from a fellow filmmaker at Sundance. He was a grantee, I believe, and spoke highly of the program, so I knew that the organization was special and was so thrilled to hear from Saidah.
2. Can you tell us a bit about the film you are working on during your residency?
I'm working on a project called Noise Addiction (working title) – it's the title track from an album by the band Pure Hell. It's a music film that covers the band's struggle in the New York punk scene, their tour in London, and how they made and lost their one and only album due to a strained and complex relationship with their manager, Curtis Knight, a man who is credited with "discovering" Jimi Hendrix. They're considered one of the first Black punk bands—if not the first Black punk band.
There was another "first Black punk band" or proto-punk band, called Death, made up of three brothers from Detroit, who were incredible. So the label of "first" is a bit futile. Both of their albums were lost and then both re-discovered decades later. Pure Hell did have more visibility at the time, because they were living in New York—right in the middle of the CBGB's and Max's Kansas City punk crowds and their single charted in the UK—but still, they were stifled by some of the same issues that plagued Death. Death makes a small appearance in the script because both bands, unbeknownst to each other, were formed and struggled to be seen in very similar ways around the same time. Over the pandemic, I had the pleasure of getting to know the men of Pure Hell—I feel like they're my punk rock uncles now. During this residency, I'm finishing the latest draft of the script.
3. What are some of the most interesting things you've learned while working on your film?
I've learned to become a better researcher. The script is largely based on the band's oral histories. I had to piece together some of their timelines with very obscure newspaper columns, fliers, some of and histories of the bands that were contemporaries, and photographs. I've also learned more about punk music and the New York City scene in the mid-to-late 70's. It was already a genre that I was obsessed with when I was younger, but revisiting all of those records has been so fun. There are certain filmmaking rules that real life doesn't respect, so fitting these tales into this narrative filmmaking box has been a huge learning experience. In order to do that, you have to construct a complete and accurate picture of what the story was to begin with—before you tear into something, you have to understand it from all angles so you can re-tell it in a way that doesn't betray the essence of the band's true story.
Also, living in New York while researching this has been an experience. I've gotten to retrace the band's steps and visit sites that they mentioned throughout their journey. Going on this tour, you learn how time moves and how quickly music evolves and how quickly some artists can be erased or neglected from history in favor of this very generalized, school-book, "greatest hits" view of how life works. Pure Hell was there for all of these well-known moments in NYC punk history. Hearing that they were kicked out of Room 100 in the Chelsea Hotel was humorous to me. I also found it striking that they show up in other people's oral histories—I found some of those references to be quite dismissive of who they were. It revealed how much casual discrimination can play into the construction of a history. The erasure is stunning. On the other hand, even though it's far removed from the era and genre this project focuses on, it helped me to further appreciate the work of people like Alan Lomax, who is a hero of mine—there are so many music traditions and voices that aren't lost because of the work of ethnomusicologists and preservationists.
4. What do you want viewers to learn from your film?
There are several layers to the band's story, but Pure Hell's story specifically lends itself to experiential filmmaking. I want the film to help viewers properly place Pure Hell within the narrative of punk music history. I want people to come away with a full understanding of what their lost album could have meant for the time period. But most importantly, I want viewers to feel like they've walked out of a concert, shook, sweaty, high, ears buzzing. The band's album as been hidden away for so long, for people to experience the songs the way they might have in Max's Kansas City, the Paradiso in Amsterdam or the Lyceum in London, is what I look forward to the most.
5. If you had not had this opportunity, how would you go about completing your film project?
I spent so much time writing this film in the city or on the go, but I'm at the point where peace and quiet and time are essential. I suppose I would be writing it in my apartment, with the street noise floating in through the window, but this residency has given me the space and time to lock myself in the band's world once again.
6. Which filmmakers or artists do you most admire/draw inspiration from?
The list is endless. It's so difficult to name just a few – during this project: the great music writer Greg Tate, ethnomusicologist Alan Lomax, documentarian Les Blank, filmmaker Susan Sieldelman who made The Smithereens—a film that really influenced my early aesthetic take on this story. Filmmakers Steve McQueen, Anton Corbijn, Jim Jarmusch, Michel Gondry, Martin Scorsese, designer Vivienne Westwood. Poly Styrene from X-Ray Specs. The music of Death, Pure Hell, Bad Brains, the Cramps, and Fugazi.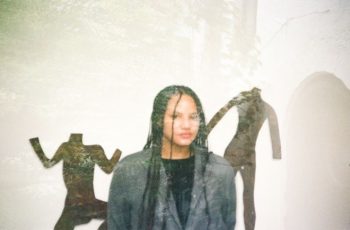 Haley Elizabeth Anderson is a Brooklyn-based writer, director, and multidisciplinary artist. Her work has been featured at several film festivals and platforms, including Sundance, SXSW, Tribeca Film Festival, AFI, Le Cinema Club, I-D Magazine, and Sixteen Journal. She was selected as one of Filmmaker Magazine's 25 New Faces of Independent Film in 2019.