Creative Culture Artists-in-Residence: Mariam Al-Dhabhani and Mohammed Al-Jaberi
As a part of our ongoing interviews with Creative Culture Artists-in-Residence at the Jacob Burns Film Center, we recently caught up with Artists-in-Residence Mariam Al-Dhabhani and Mohammed Al-Jaberi to talk about their current work.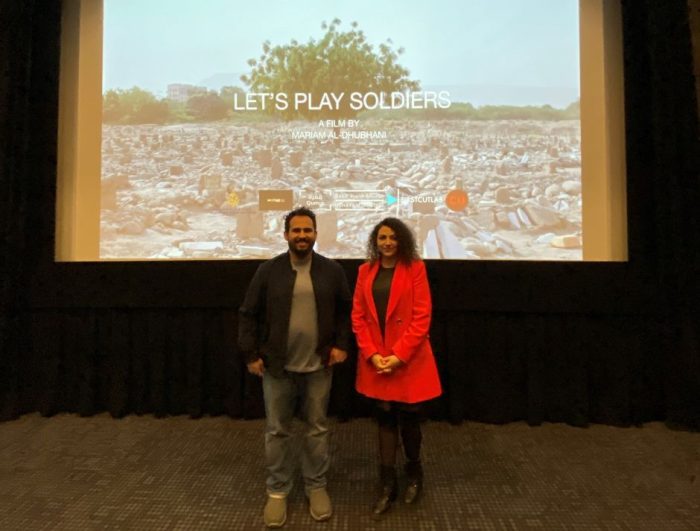 "Director Mariam Al-Dhabhani and producer Mohammed Al-Jaberi are talented, creative and compassionate emerging non-fiction filmmakers from Yemen, in production on an intimate, poignant and ever so human story about child soldiers in Yemen and the long term effects on the families, communities and soldiers themselves," said Bruni Burres, Close Up Initiative founding partner and mentor. "As Mariam and Mohammed's mentor it was a creative and intellectual joy, as both are so open, questioning and eager to push boundaries both in story and in form with their documentary filmmaking."
Q&A with Mariam Al-Dhabhani
1. How did this residency come about, and how did you learn about the Burns?
Mohammed, my producer and I, we were so lucky to be part of Close Up Initiative with our project Let's Play Soldiers, which helped us grow with the film throughout almost nine months of close mentorship with our direct mentor Bruni Burres, but also everyone who is associated with Close Up.
As part of developing the story, figuring out the arc, but also closely working on the material, written and visual, we end the whole mentorship process with several pitches. We were lucky enough to have people from the Burns attending the pitch, later on being nominated to take this residency at the Burns. Frankly, it was the first time that we learned about the Jacob Burns Film Center, and it was fantastic that we did.
2. Can you tell us a bit about the film you are working on during your residency?
Let's Play Soldiers follows the story of a 16-year-old child soldier who is returning from the front lines from the ongoing war to support his family, the ongoing war of eight years that brought his father and older brother before him, both who were child soldiers and no longer are. In his quest, he's trying to prevent his two younger siblings from following the same path, and he believes in breaking the cycle and going against the tide, and that there is more than going to the front lines to be able to provide.
None of these men, the father never completed his education, the older brother dropped out from school when he was in ninth grade and also dropped out when he was in sixth grade, and the two younger siblings are currently, at least one of them is at an age where also dropped out of school, he's in fifth grade going on to sixth grade. So other than having an education to support them, to back them up, and with the ongoing war in Yemen, the economy collapsed, there is no current employment or possibility of work, and the solution for so many families and so many young boys is to head to the front lines. Not because they want to kill someone on the other side or believe in the violence, but because it became one of the only ways to provide. So one of the solutions in his head is to be a migrant worker in a neighboring country, which brings a whole new layer of complications.
The story is set in Yemen, in a small village in the south of Yemen, and the project is still ongoing. The idea of the film started in 2019 in development, and the actual filming started in October 2020 amidst the pandemic. The film is our attempt to not focus on the direct violence of the war and instead focus on the hope and resilience, focus on the joys of life still amidst the ongoing war at the backdrop and to show the devastation that the war brings in the sense of economy and inflation and how people are trying to cope with it and figure out solutions, or ways to find normalcy in the ab-normalcy of the conflict.
3. What are some of the most interesting things you've learned while working on your film?
One of the most important things that we got to discover and rediscover while at the residence, is finding the calmness to focus. As a documentary filmmaker, we tend to forget key moments, hidden jewels and gold within our footage, and being too embedded within the work is sometimes, they get buried even more with the new footage and with the thinking and re-thinking, scripting and re-scripting, writing and re-writing. So the most interesting thing, re-watching and re-listening brings you back to that space, brings you back to the beginning. Especially, the first footage, the earlier recordings makes you realize how far you've come within the journey. But this film, for me and Mohammed, this is our first feature film. It started as a short, and it grew into a feature, and we've been growing with the film and learning with the film. For us, storytelling is important, but it's also important to come from local voices. Both of us we're Yemenis, we were born and we grew up in Yemen. This is our home, and we feel a sense to give back and to tell these stories, to bring them to a world in a sense that is authentic and real and honest.
4. What do you want viewers to learn from your film?
To understand an alternative reality from what is usually shared and bombarded, stereotypically in the news, to be embedded in this beautiful world that is very different and raw. It really breaks my heart to keep saying this word, but to humanize. How do you humanize a human? And fortunately, images of constant violence and conflict, especially in a faraway land, it becomes so easy to create a wall and to dismiss or to forget and pretend that it's just far away, it doesn't affect me, forgetting that the whole world is connected. We are sharing the same air. The earth is one planet at the end of the day, and there is a domino effect for everything that happens in one part of the world. It does reach the other part in one way or another, and it's important to understand that we're just all people. We have different circumstances, some are very turbulent, but this is temporary. This is not forever.
Yemen has been going through so much hardship, but that does not mean that that is all that there is. People still manage to celebrate, they will still manage to have weddings, plan for the future, start families, and find ways to be resilient and hopeful. This is at its core very human and very beautiful, and Yemen is more than the destruction. Yemen is more than the death. Yemen is more than the famine. We are all more than this. We are hopefully resilient, strong people that are going through a rough time, and will hopefully overcome it.
5. If you had not had this opportunity, how you would you go about completing your film project?
The Jacob Burns residency is a fantastic opportunity to focus, to detach, to be in a new space with creative possibilities, creative people. For us as Yemenis, to be able to go to the U.S., it's not always something easy. At a certain part of time, we were part of a ban, and we weren't able to access this part of the world because of misconceptions about our part of the world. Having this cultural exchange in so many ways, because cinema is a language, is a conversation, it's a community, and it's beautiful to keep conversing via cinematic images and expressions. For us to be able to do that, we need to be able to move around the world and not be stuck in one corner. And the beauty is this opportunity allowed us to move and bring part of us with us, bring our storytelling, bring our stories and advance them further. It was a huge impact, and we're hoping that this is the first but not last collaboration. We'd love to be connected and to keep benefitting from the resources and opportunities that are available for storytellers from across the world, especially from our part of the world and continue this connectivity that enriches and brings more colors and more diversity into the cultural scene, the universal, international cultural scene.
6. Is there anything else you'd like to add?
Our deep gratitude for the support and the space to be able to not only go to the Burns residency in Pleasantville, but also to get to experience the beauty and serenity of that space, to have a creative retreat to reconnect with the story and reconnect with each other as filmmakers who are bombarded with so many things, who keep running after so many things like hamsters in a wheel. It's so good to have this pause and calmness with our work and reflect.
It was fantastic to have these two spaces in Pleasantville and Woodstock, to be able to add on what we've been doing, pause from the madness, and embrace the chaos into a beautiful assembly, and hoping that moving forward, we have more of these opportunities because they are extremely precious. It's like using silence in film as a character to breathe and digest. Using residencies in the lifespan of filmmakers creates the same space to be able to pause, breathe, reflect on what we have accomplished, what is missing, see other solutions to the challenges that of course constantly come up, but reconnecting with the larger film community in how support each other and how to get support and help when we need to keep pushing further with the work, so a huge thank you to the film community that pushes us forward and believes in us.
A huge thank you to Close Up for connecting us with the Jacob Burns Film Center and Silver Sun Foundation and hoping that this is beginning of a beautiful partnership. Working on film, it takes a village, or as we like to say, it takes a tribe, so we'd love to count the Burns as part of our tribe and hoping to maintain this beautiful friendship, partnership into the future as well.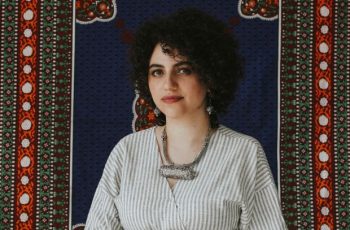 Mariam Al-Dhubhani is a Yemeni-Russian award-winning journalist, filmmaker, curator, and educator based in the MENA region. She first pursued her passion for media during the 2011 Arab uprisings and co-founded her first media production. She is a two-time TEDx speaker and one of the first directors to utilize virtual reality to highlight stories from Yemen. Al-Dhubhani holds a Bachelor's degree in Journalism and Strategic Communication from Northwestern University, 2019, and a Post Graduate Diploma in Museum and Gallery Practice from University College London, 2020. In addition to grossing several awards for her films, she was awarded Most Promising Filmmaker at the Toronto Arab Film Festival in 2019 for her film, In The Middle. Through her work, Mariam attempts to shed light on the dangers of stereotyping the region in the mainstream media and provides a counterviewpoint to showcase equality in humanity. Her feature debut, Let's Play Soldiers, is a part of the Close Up Initiative. Al-Dhubhani has provided mentorship and training to support young filmmakers in conflict areas, including Yemen and Libya. She also served as a jury member for film grants and festivals in the US, Canada, and Yemen. Additionally, she collaborated with several UN agencies to produce and train young journalists on immersive reality in storytelling. Currently, she serves as a consultant on a Hollywood production film about Yemen.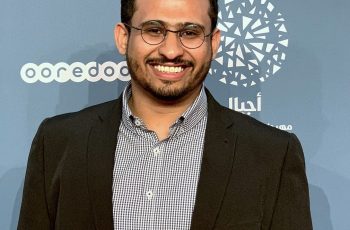 Mohammed Al-Jaberi is a Yemeni producer and cinematographer who worked on award-winning short documentary films focusing on Yemen. His feature length debut is a film showing the impact of the war in Yemen on children, produced in collaboration with DFI and Al Jazeera. He received specialized training from international film experts including the French Cambodian director, Rithy Phan and the Sundance consultant Bruni Burres. He participated in a number of international film industry events including in Beirut DC, HotDocs, Doha Film Institute, AJB DOC, Close Up Initiative, MEDIMED, Jacob Burns Film Center, IDFA and Cairo International Film Festival. He holds two degrees in international relations and development.