Taking Stock of TIFF
by JBFC Marketing Manager Paige Grand Pré
Eight days. 22 films—four docs and 18 narratives—across four venues. 148,987 steps (at least according to my fitbit). Two boxes of blister bandaids. One unforgettable experience!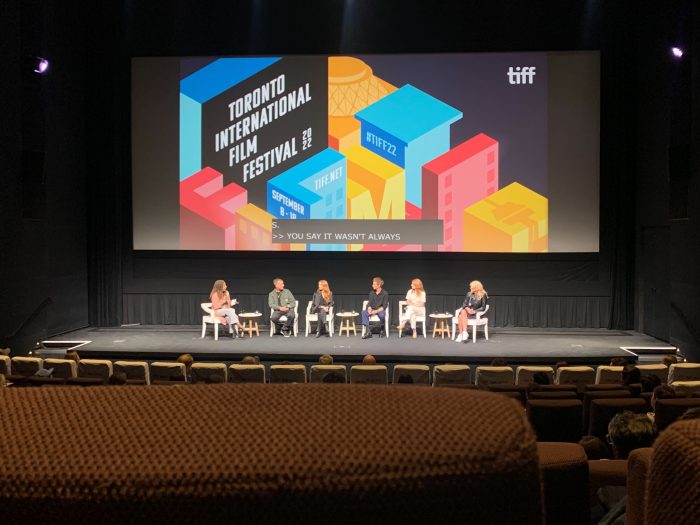 This September, I was fortunate enough to accompany the programming team to TIFF, The Toronto International Film Festival, which marked the first time a marketing team member was able to attend an out-of-state film festival on behalf of the Burns. It was overwhelming at times—I've likened it to drinking from a firehose—but on the whole it was a fantastic, fun, incredibly valuable, and truly educational experience. It was my first time in Toronto, which was exciting in and of itself, but seeing the city's downtown streets transformed into a walkable plaza filled with art installations, outdoor screening spaces, marketing pop-ups, and more, made it clear that TIFF is a one-of-a-kind event.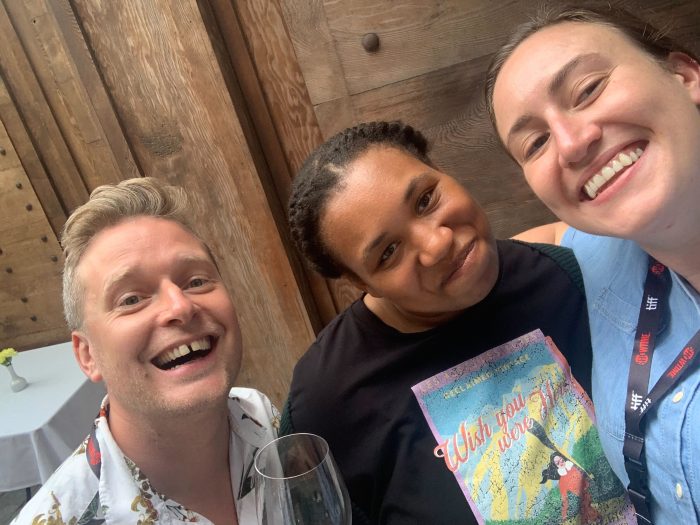 Alongside my JBFC colleagues—Programming Manager Saidah Russell and Director of Special Event Programming Chris Holliday—our primary mission at TIFF was essentially to see as many movies as possible. Getting to see these films in advance, and pick up on industry chatter before their wider releases, gave me a much clearer picture of how to market certain films, or find others that might be a good fit for the Burns—sometimes entirely by accident, as you never quite know what to expect from a screening! It gave me a sense of perspective I rarely have on the industry, not to mention a running start (a rare privilege amidst the rapid, endless production churn of the film industry!) on marketing a slew of films we'll open at the Burns in the weeks and months to come.
In between our 3-4 daily screenings, we were still able to find time to network with industry colleagues from distribution companies, film nonprofits, fellow independent theaters, and the like. Valuable connections were made at industry receptions throughout the festival, but also by happenstance—while waiting in line for concessions, or chatting with individuals who happened to sit next to us at meals between screenings. Since our return to Pleasantville, we've already begun to benefit from the connections made at TIFF 2022; we've planned and executed special events with distributor reps we were finally able to meet face to face, while Chris even judged a 48-hour film challenge for a festival programmer we met at a sushi bar!
While there were a number of films we attended as a group, Chris, Saidah, and I often took a divide-and-conquer approach, trying to cover as much cinematic ground as possible. To give you an idea of what our experience was like, here's a list of just my TIFF screenings at a glance, including details about when you can catch a few of these titles at the Burns!:
Triangle of Sadness (dir. Ruben Östlund) – Now showing at the JBFC
Decision to Leave (dir. Park Chan-wook) – Now Showing at the JBFC
Living (dir. Oliver Hermanus)
All the Beauty and the Bloodshed (dir. Laura Poitras) – Opens Friday, Dec. 9 at the JBFC
The Grab (dir. Gabriela Cowperthwaite)
Blind Willow, Sleeping Woman (dir. Pierre Földes)
The Woman King (dir. Gina Prince-Bythewood)
Women Talking (dir. Sarah Polley)
Casa Susanna (dir. Sébastien Lifshitz)
The Fabelmans (dir. Steven Spielberg) – Opens Wednesday, Nov. 23 at the JBFC
My Policeman (dir. Michael Grandage)
Allelujah (dir. Richard Eyre)
Saint Omer (dir. Alice Diop)
The Good Nurse (dir. Tobias Lindholm)
Glass Onion: A Knives Out Mystery (dir. Rian Johnson)
Free Money (dir. Sam Soko & Lauren DeFilippo)
The Banshees of Inisherin (dir. Martin McDonagh) – Now Showing at the JBFC
Riceboy Sleeps (dir. Anthony Shim)
The Wonder (dir. Sebastián Lelio)
Hawa (dir. Maïmouna Doucouré)
Bruiser (dir. Miles Warren)
Documentary Now: Season 4, Episodes 1-3 (dir. Alex Buono, Rhys Thomas & Micah Gardner)
Overall, TIFF was an incredibly fascinating and enlightening experience. My colleagues and I saw an absurd amount of incredible films, made valuable industry connections, and returned ready to hit the ground running for the coming season. It was a powerful reminder of cinema's breadth and depth, reinforcing our passion for film and highlighting the importance of sharing new, diverse, and unique stories with engaged audiences. We can't wait to share a handful of these titles with you, too—more TIFF titles may hit our screens in the coming months, so stay tuned!