We are thrilled to open the Theater doors on Wednesday, May 12, and welcome our community back to the JBFC.  It has been a long and difficult year, but thanks to the strength and support of the JBFC community, we are ready and prepared to embrace this exciting moment.
We completed multiple improvements to the facility in anticipation of our reopening, including the installation of Bi-Polar Ionization air purification units throughout the JBFC Theater and Media Arts Lab. Visit our safety webpage for details about the facility improvements, safety measures, and procedures, including social distancing, assigned seating, and more.
Our Theater hours and screening schedule will be announced before we reopen. We will continue to offer film programs through our Virtual Marquee, so you will be able to experience the programming we have to offer, whether in-person at the Theater or from the comfort of home.
In celebration of our reopening, we are delighted to present Projecting Light Through Darkness, which dramatically brightens the JBFC Theater. This vibrant installation, paired with a stunning and permanent upgrade to the Theater marquee, brings light to our corner of Pleasantville after an unprecedented period of darkness for the JBFC and for all of us. This work is made possible by a generous gift from Suzanne and Robert Harwood. 
The installation will be on view seven days a week from 7:00 pm to 11:00 pm through April 25, paving the way to our reopening. Visit Pleasantville to experience the lights, best seen after darkness, and while you are in town, please support a local business or restaurant.
We are profoundly grateful to our donors, members, and the entire community for remaining by our side and helping to make so much possible.
We'll see you at the movies!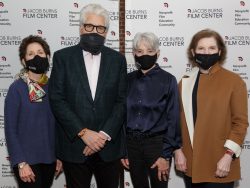 (from left to right) JBFC Board Chair Lynn Sobel, Robert Harwood, Suzanne Harwood, JBFC Board President Janet Maslin
Photos: Ed Cody