by Paige Grand Pre, JBFC Marketing Associate
In celebration of the JBFC's newest film club Adapted: Page to Screen, we asked JBFC staffers to share their own favorite film adaptations! Check out the diverse list of staff picks below, then join us Sept. 11-Dec. 11, 2019 for Adapted: Page to Screen!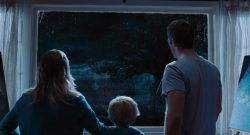 Brandon Shenkman, Senior Faculty, Lab Courses Coordinator, Program & Curriculum Development:
The Mist (Darabont, 2007); adapted from The Mist by Stephen King
"I don't know if it is my favorite adaptation ever, but one that's always stood out to me is Frank Darabont's take on Stephen King's novella The Mist. The Mist really deviates when it comes to the end—choosing an extremely bleak and more definitive ending—whereas King's original ending was open-ended and more optimistic.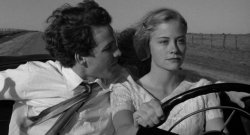 Theresa Dawson, Education Faculty:
The Last Picture Show (Bogdanovich, 1971); adapted from The Last Picture Show by Larry McMurtry
Five reasons why I love this film (and extra-credit gossip!):
This film adaptation is one of the rare examples of the film being far better than the novel. The film elevates its trashy pulp-novel source material into a universal story about growing up, love and loss.
It's the best film of Peter Bogdanovich's uneven career
The acting. It made stars of many of the cast, e.g. Timothy Bottoms, Jeff Bridges, and of course Cybill Shepherd, who was discovered by Bogdanovich.
The production design. The film's production designer, Polly Platt (Bogdanovich's then-wife) nails the period-perfect depiction of a small Texas town where nothing happens.
The cinematography. Apparently it's due to the urging of Orson Welles (who was staying with Bogdanovich when the film was in pre-production), that Bogdanovich made the decision to film in black-and-white and enlisted veteran DP Robert Surtees to shoot the film.
*Gossip*: Bogdanovich's marriage to Platt fell apart when he began an on-set relationship with Shepherd.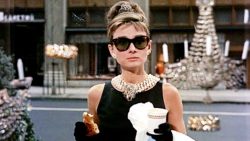 Daniela Velez, Development Associate for Institutional Giving:
Breakfast at Tiffany's (Edwards, 1961); adapted from Breakfast at Tiffany's by Truman Capote
An undeniable classic, Breakfast at Tiffany's is my favorite adaptation. Although they have some blatant differences (time periods, orientation of the narrator, their endings) they sort of complement each other. While I  prefer the book's ambiguous ending of Holly escaping to Buenos Aires, the film's romantic one captivates me too. Reading the book and watching the movie feels like getting to know Capote's fascinating protagonist on different levels.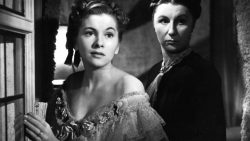 Sarah Lempke O'Hare, Interim Director of Education Operations:
Rebecca (Hitchcock, 1940); adapted from Rebecca by Daphne du Maurier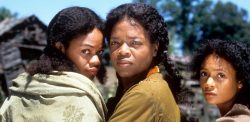 Bonnie Elder Yassky, Special Projects Manager:
Beloved (Demme, 1998); adapted from Beloved by Toni Morrison
How equal parts brave and intimidating to tackle a work of the towering Toni Morrison (Ms. Morrison) in film?!? That book (based on true events) is so incredibly powerful and rendered equally so (my two cents) in it's mirror like film. It is yet the only one of her works to be adapted to the screen. I only hope the film one day gets the recognition it deserves. Perhaps today's audience is more willing to wade thru the weight of the pain and history it serves up?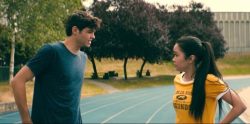 Erica Mercer, Graphic Designer:
To All the Boys I've Loved Before (Johnson, 2018); adapted from To All the Boys I've Loved Before by Jenny Han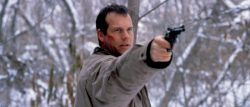 Denise Treco, Director of Marketing:
A Simple Plan (Raimi, 1998), adapted from A Simple Plan by Scott B. Smith
Starring Bill Paxton, Billy Bob Thornton, and Bridget Fonda, this film was adapted from the 1993 Scott B. Smith book. It's a dark and twisty tale about friends who find a plane full of money and decide to keep it. As you would expect, bad things happen as they try to conceal their guilt. It's a great book that was made into a fantastic film.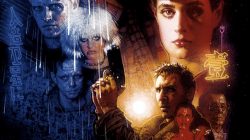 Paige Grand Pré, Marketing Associate:
Blade Runner (Scott, 1982), adapted from Do Androids Dream of Electric Sheep? by Philip K. Dick
As an adaptation, Blade Runner doesn't hew too closely to the details of Dick's original work—Dick used the term "android," while Blade Runner used "replicant," among other examples—but it captures the novel's essence perfectly. In bringing the sci-fi classic to the big screen, director Ridley Scott deftly navigates the fine line between man and machine, causing us to question not only whether artificial intelligence can be sentient, but also what makes us "human" in the first place.
Adapted: Page to Screen kicks off Wednesday, Sept. 11 at 1:00 with In a Lonely Place, and continues through December 2019 with screenings of The Virgin Suicides (Oct. 23), Sometimes a Great Notion (Nov. 13), and Brokeback Mountain (Dec. 11). Each month we'll read—and, of course, watch!—these classic and compelling stories before engaging in a discussion moderated by Series Curator Sarah Soliman. Ticketbuyers will receive both a preview and a wrap-up email to accompany each month's screening. Visit the Adapted: Page to Screen series page today to secure your tickets!