REGISTRATION IS CLOSED
Virtual Winter Break Camp
Grades 6–8, February 21–25
1:00 PM ET–3:00 PM ET
Classes: 5
$225 (members), $250 (nonmembers)
If you can dream it, you can do it! Adventures in Animation is a weeklong experience consisting of five two-hour sessions where students will learn the basics of stop-motion animation and bring their wildest ideas to life. Makers will practice essential techniques, dissect amazing shorts, and channel creativity in ways never thought possible! Whether a budding animator looking to hone their skills or a total newbie ready to get their feet wet, this playful course will give students room to experiment with the support of a collaborative community.
The animating portions of this course will take place during class time, so students must have access to two devices (one for creating, and one for communicating with the class). This course does not require out-of-class work, but if students feel inspired to keep creating, we will gladly share all that they make.
Engage in short skill-building challenges as you bolster your animating abilities.

Experiment with a range of materials like clay, toys and figurines, and found objects.

Watch and dissect masterful animations from ground-breaking artists.

Craft your own story and put your knowledge to the test as you create an animated scene as your capstone project.
Filmmaking and Animation skills emphasized in this course include:
Composition, Framing, and Shot Types

Storyboarding

Achieving Basic Camera Movements in Animation

Timing Actions (Frames per Second, Slow-in, Slow-out), Exaggeration, Secondary Action

Use of Sound Effects/Score
Technology Utilized:
A Portable Animating Device (Smartphone or Tablet)

A Second Device to Communicate with the Class over Zoom (Smartphone, Tablet, or Computer)

Stop Motion Studio Pro App

Not Required, But Handy

– A Stand to Steady your Animating Device.
Materials: We anticipate a cost of $10 for all apps and materials for the week.
App: 

Stop Motion Studio Pro (iOS or Android – available in your device App store for $4.99)

Students will get to choose which supplies they'd like to animate with. Some suggestions are: General arts and craft supplies (paper, scissors, popsicle sticks, pom poms, beads), clay or Playdough, LEGO, and small toys that can stand unsupported. For one exercise we will also be using found objects, like recyclables, or other small household items.

Access to two devices (one for creating and one for communication with the class)
Registration and General Information for Virtual Education Classes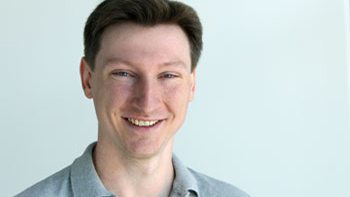 Brandon Shenkman graduated from Rensselaer Polytechnic Institute with a B.S. in Electronic Media, Arts and Communication. While attending RPI he interned at IBM in the Software Division. He has also designed and scored independent video games as well as being an accomplished freelance writer. He teaches various courses at the Jacob Burns Film Center. Brandon's classes focus on learning through experimentation and iteration. They are designed to emphasize and nurture a student's individual creative instincts, while providing them with a safe space to collaborate alongside like-minded peers.