By Creative Culture fellow Sahar al-Sawaf
My first visit to the Jacob Burns Film Center was quite a memorable one. I had just relocated to New York, and heard that a theater in Pleasantville was screening Anomalisa, a stop-motion, animated feature film and the writer/director Charlie Kaufman would be there for a Q&A. I bought a ticket online and could not wait for the day to come. Having studied Filmmaking and Experimental Animation at CalArts, I was thrilled to watch a non-traditional, animated film, essentially made with puppets and clay, geared towards adults. It was a rare opportunity.
I had no idea where this theater was, but I was happy to go on an adventure. I put the JBFC address into my giant old-school GPS and began my drive from White Plains. I left civilization and headed into beautiful areas populated with trees and forests. As I drove up and down long, winding roads, I thought about how odd it was that Charlie Kaufman was making an appearance at a theater out in the woods. I kept getting closer and closer to the destination marker; then I finally made it! I looked outside my window—I had hit a "Dead End" sign. If I drove a couple more feet, the car and I would have ended up in the Kensico Reservoir. I panicked. I did not have a cellphone and I had printed out my tickets from a computer, which by the way, who does that anymore? I re-entered the address in my GPS and went on my way, crossing my fingers that this would work. As the initial 20-minute drive had turned into an almost hour-long ordeal, I feared I was going to miss this amazing screening.
I finally descended upon a funky town called Pleasantville, and saw the Jacob Burns Film Center. I walked into a packed Theater 1 and took my seat near the front. The gentleman next to me had a giant tub of fresh popcorn and offered to share it with me. I found this very weird—who shares popcorn with strangers? The screening and intimate discussion with the filmmakers were simultaneously inspiring and disarming within the new social/artistic context in which I found myself.  Having recently departed Los Angeles, I felt I had found a new home in New York at the Jacob Burns Film Center.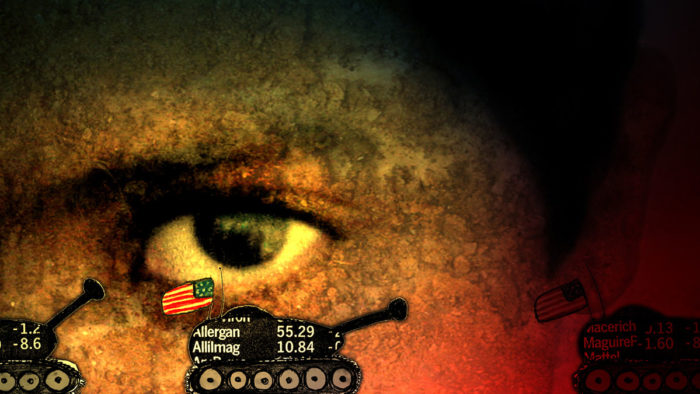 Home is a difficult subject for me. I was born in Saudi Arabia, grew up in Lebanon and Iraq, and escaped to California as a child, days before the start of the Gulf War. I came to this country as an immigrant, fluent only in Arabic. At school I was enrolled in ESL classes, and I learned how to speak English with a California accent; "awesome" and "like" are things I say way too much.  To assimilate into American culture was to truly erase my immigrant voice—to conceal my true identity. It is alarming to look at the news and constantly see my home country of Iraq being destroyed and redacted from history. My background is not something I feel safe shouting out to the entire world.
For the past 15 years, I have often been mistaken for being Latina. People come up to me all the time trying to speak Spanish with me. A Latina woman who I interact with daily asked me with an air of disappointment why I do not speak Spanish with her. When I told her that I am from Iraq and speak Arabic she was floored and confused, as are most people who meet me. When I tell people that my name is Sahar they often remark, "How exotic, what is that?" When I say I am from Iraq the conversation screeches to a halt and the subject is immediately changed. Most of the time, people will not register the letter "Q" from Iraq. They mistakenly think I am from Iran and assume I speak Farsi.
I am an Iraqi filmmaker and visual artist. I make films, paintings, drawings, photographs, textiles, all very different mediums but they come together to represent who I am. I have traveled extensively in the Middle East with my sketchbook and camera in hand, where I have had the pleasure of dining with the royal family of Dubai, as well as eating from a pile of newspapers on the floor with Iraqi refugees in Jordan. Additionally, I have returned to the home where I grew up in Beirut, Lebanon. Having survived the bullet holes and missiles through the walls, I enjoyed sifting through the remaining memories, photographs, and spaces that shaped me as a child of war. I have screened my works internationally, from Los Angeles to Tehran and most recently, I completed an artist's book, Shadow of Paradise, where I re-photographed found footage of my missing Iraqi family that I have been estranged from for over 20 years. Working in documentary, animation, and storytelling, has allowed me to shed insight into this often misunderstood and opaquely veiled world.
I am thrilled to be supported by JBFC and Creative Culture while I develop an animated short film as a fellow. I began teaching at the Media Arts Lab a few months after I saw Anomalisa. It means the world to me to have an opportunity to make a film with a place that has been a big part of my life for the past few years, a place unlike any other in the world, and a place where I have received a tremendous amount of kindness. In this lovely town of Pleasantville I see that kindness daily, just like the kindness of that stranger who offered me some of his popcorn the very first time I stepped into the Jacob Burns Film Center.
Sahar's work can be seen here and here.