Creative Culture Artist-in-Residence: Elwira Niewiera
As a part of our ongoing interviews with Creative Culture Artists-in-Residence at the Jacob Burns Film Center, we recently caught up with Artist-in-Residence Elwira Niewiera to talk about her current work.
Thank you to Elwira and co-director/cinematographer Piotr Rosolowski for taking part in a Q&A on June 13, following the screening of The Prince and the Dybbuk.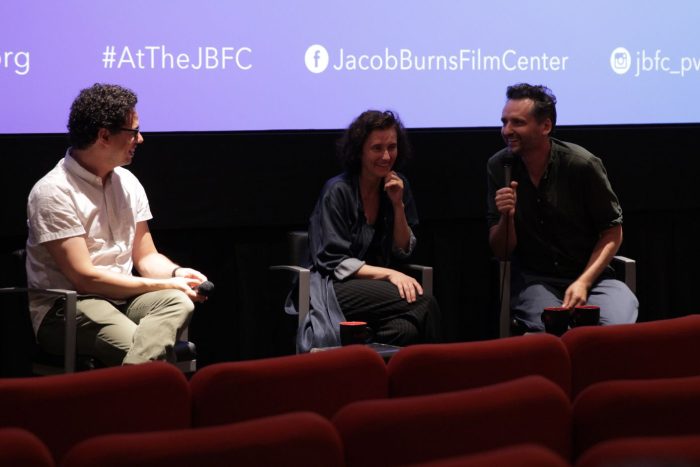 1.  How did this residency come about, and how did you learn about the Burns?
I'm from Poland an Eastern European country, far away from the United States. Last year I got the Chicken & Egg Pictures Award which strongly connected me with the USA. It is an outstanding award for women and gender-nonconforming directors with unique cinema voices. I participated in a year-long mentorship program that focused on strengthening my professional infrastructure and fulfilling my specific personal and creative goals. I developed two film projects during that time, and at some point, Chicken & Egg Pictures has recommended me to the Jacob Burns Film Center.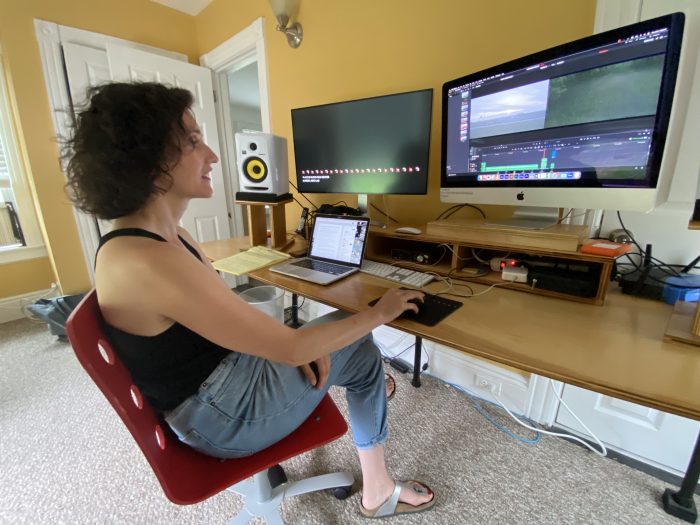 2. What do you hope to accomplish during your residency?
I have been doing research for a narrative film for a few months. The film is based on a true story. I already spent a lot of time with the person to collect material for the script. During the residency, I will start writing the first draft of the script. So this means working out ideas and narratives, structuring the story, and finding issues with the plot. I hope to come out of the residency with a draft that feels like the very first version of the film story.
3. What film are you working on during your residency? What is your film about?
It's the story of a well-known freedom fighter and a member of the Solidarność (Solidarity) movement, who struggled in the 80s against the communist regime in Poland. In the 90s, after the fall of the Iron Curtain, when Poland became independent, and the political transformation processes started, my character began to fight for his true identity and own personal transformation. He underwent a male-to-female sex-change operation and became a woman. From that moment she was forgotten by her family, colleagues, erased from the history of Poland, and pushed out of the margins. Now my character is an outcast; she lives in a basement and struggles with the poverty, solitude, and social rejection in her democratic homeland for 20 years. Her life is constantly fighting for freedom, especially now when the right-wing government uses homophobia as a powerful political tool, creating an atmosphere of hate and intolerance against LGBTQI+ people. The story shows that freedom becomes a relative term, defined by prejudice, misunderstanding, and ignorance.
4. What are some of the most interesting things you've learned while researching the life of the freedom fighter Ewa?
Ewa was heavily involved in the struggle for a free and just Poland. She became a legend in her own right. She received four degrees from the university where she lectured at. Her decision to undergo a male-to-female sex-change operation caused her to be ostracized by her family, and which also left her political and academic career in shambles. At some point, her colleagues began to take credit for her achievements. The most interesting things I've learned was that the communist regime could not break her, but human hatred did. At the age of 50, when she decided on gender reassignment she knew that if she did not correct her gender, there would only be one way left – to commit suicide.
5. If you had not had this opportunity, how you would you go about completing your film project?
Concentrating only on one project is difficult if you don't take a break from the daily routine. Now I'm far away from home, and I can dedicate weeks to writing, and my thoughts are fully focused on my film story. I think it might have taken another year to get through this draft if I wasn't here.
Writing can be a lonely business. Thanks to the residency, I could invite my co-writer Piotr Rosolowski with whom I have been working in a team as a director and scriptwriter for more than ten years. We did three documentary movies together. It is extraordinary and essential that the residency gives the option of inviting a second-team member. I'm grateful for this opportunity, and I want to thank the JBFC team for their tremendous support.
6. What do you want viewers to learn from your documentary Freedom Highway?
During my residency, I will be also be working on a teaser for my documentary road movie project Freedom Highway. For the past years, I have observed disturbing activities and trends in Poland, as well as in other Eastern European countries, toward the eroding of the foundations of democracy. Growing nationalism and populism are pushing us to redefine our most significant values, especially the meaning of freedom. The Freedom House has named Poland, as a country where liberal democracy is gradually being turned into a hybrid regime, where the rights and freedoms of many religious, ethnic, and sexual minorities are curtailed and taken away. Freedom Highway is an attempt to answer the question to why this is occurring. What happened to that unique spirit of freedom that I remember so well, arising from the ashes of the Iron Curtain in 1989? In my film, the titular highway is a metaphor for the road to freedom so many countries were optimistically traversing, but whose destination ultimately failed to materialize. I hope the film will initiate a public discourse. And that it will also be an encouragement for those who continue to carry in their hearts the torch for freedom and democracy.
7. Which filmmakers or artists do you most admire/draw inspiration from?
It's Tamara Trampe, a respected and well-known German director of Russian origin. She was my great supporter and artistic mentor for many years. She greatly impacted my film career development because she taught me how to look, understand, and go beyond what you just see, and how to seek deeper meaning while focusing on the fate of an individual. Tamara was convinced that through the detailed observation of a small section of the world, a microcosm, one could tell a universal story beyond an individual fate. Also, thanks to her recommendations, I could win the trust of film institutions at the beginning of my career.
8.  Is there anything else you'd like to add?
I have made three full-length documentaries so far. This project  I'm working on now is a fulfillment of a dream to explore more deeply the borderline areas of fiction/non-fiction, which are a very interesting space for me to continue my creative work and film career.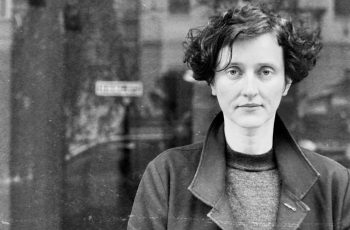 ELWIRA NIEWIERA is a Polish/German director and screenwriter based in Berlin. She is the author of the well-known and award-winning documentaries Domino Effect and The Prince and the Dybbuk (co-directed with Piotr Rosolowski). The movies were shown worldwide at over 50 festivals, including Venice Film Festival, IDFA, Hot Docs Toronto, and MoMa Doc Fortnight. She won many awards, among which were the Lion for the Best Documentary at 74th Venice Film Festival, the Polish Film Academy Award for Best Documentary, Golden Dove at DOK Leipzig Film Festival, and the Golden Horn at the Krakow Film Festival. Elwira recently received the Young German Cinema Award and the American Chicken & Egg Award 2021. In her artistic work, she focuses primarily on political, social and cultural transformations in Eastern Europe. Elwira just finished work on The Hamlet Syndrome, a film portrait of the young Ukrainian generation scarred by war and political turmoil.