A Life Through the Lens of the JBFC: Aaron Mace
by Aaron Mace, 4th Grade Teacher – Claremont School & Former JBFC Staff Member
It's so good to be back at the Burns. Walking into the lobby the other day brought back a flood of memories. I first walked into the theater 18 years ago to see Morgan Spurlock's Super Size Me. I was scouting out the place, hoping to get an internship for some real world experience while finishing a film production degree. I was also thrilled to find a theater near home that showed the kinds of films you could only see with a trip to the big city.
It was pretty early in the days of the JBFC and the offices were hidden behind the old toy store, through a big metal door, and up a creaky flight of stairs that had the Pleasantville movie poster hanging in it. If you walked into that office you'd see a group of dedicated, caring, and welcoming people who were building an incredible organization from the ground up. Many of those people still work at or are involved with the Burns today.
As an intern, I soon started supporting the education department with some of their school trips for third graders. It was a program called See Hear Feel Film that used the vocabulary, style, and structure of film to get students excited about writing. I'd never worked with kids before and quickly learned it was what I really wanted to do. Anne Marie Santoro, its designer and one of the educators at the Burns, has a simple philosophy about education that rubbed off on me. "Every child can do everything." Long story short, I finished my film degree and moved back to Westchester while I tried to get a "real job". I was excited to find an opening as a projectionist at the Burns and continued to volunteer with their education programs during the day while working nights in the booth. I loved being a projectionist at the Burns. They really care about presenting films to the highest standards. Even more, I loved sharing the power of visual stories with third and fourth graders.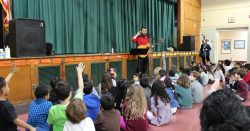 After two years in the booth, the education department was hiring and I applied to become an Education Associate. My main duties would be to schedule all the class trips to the theater, organize and pay for busing for under-resourced schools, do outreach, coordinate and manage volunteers, and assist the JBFC faculty when students were visiting. During this time I started teaching the Burns animation program, Minds in Motion, at a Boys and Girls Club in Mt. Vernon. While doing this I continued supporting our other education programs and leading small groups of students through activities. I also met the woman who was to become my wife. She walked through the doors as a volunteer and I knew that second that she was special.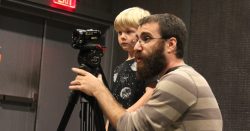 As the Media Arts Lab moved from a dream to a reality, I also began to do more teaching and pass on administrative duties as our staff started to grow. I worked with an incredible group of educators, collaborating to develop and teach amazing programming for kids after school. We played with animation, photography, special effects, game design and coding, sound design, effects makeup, and of course video production with a focus on storytelling. I found myself working with the youngest students at the Lab and eventually partnered with master storyteller Bill Gordh to develop a program to bring storytelling and filmmaking to early childhood classrooms (preK-2nd grade) in schools in Ossining and Yonkers. I also was fortunate (or maybe crazy) to be the Camp Director for the first 8 years of
Lab Camp
, bringing back some of my administrative skills to organize and support 130 kids in having a fabulous summer.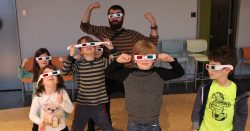 Time went on and I found myself doing more and more professional development, designing programming that I wouldn't get to teach, and savoring those moments I would get to spend in classrooms. I decided to go back to school and get a masters degree in education from Pace University. I learned a lot there and ended up the Graduate Student of the Year. This earned me a place on stage at Radio City Music Hall during the graduation ceremony (it was pretty cool). It was a hard decision to decide to leave the Burns, I'd been there for 15 years.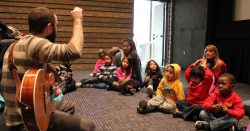 I now find myself standing in front of twenty-four 4th graders every day teaching reading, writing, math, science, social studies, and even how to be a good person. This is definitely a greater challenge than any I've had in my professional career. The pace is relentless and the stakes are high. I've gotten to build real relationships with each of the kids sitting in front of me along with their families. This work has only strengthened those ideas I first encountered all those years ago. Every child can do everything.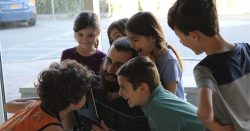 This May, I brought my 4th grade class on our first field trip in two years to see the incredible film
Landfill Harmonic
as part of the
Classroom to Screening Room
program. The carpet may be different now, the posters hanging in the lobby have changed, there's even a new concession stand, but the magic of seeing an amazing story on a huge screen surrounded by others hasn't changed.