Artist-in-Residence: Maksim Shved
As a part of our ongoing interviews with Artists-in-Residence at the Jacob Burns Film Center, we recently caught up with Artist-in-Residence Maksim Shved to talk about his current work.
1. How did this residency come about, and how did you learn about the Burns?
I first heard about the residency from Ryan Harrington (JBFC's Director of Film Programs and Curator-in-Chief) when my colleague and I were presenting our pitch for our documentary project Flow in the Copenhagen International Documentary Film Festival (CPH:DOX). Ryan liked the idea of our film and invited us to participate in an artistic residence in New York. It sounded a bit fantastic to me but I decided to use the chance and wrote to Ryan. And here I am! 

2. Can you tell us a bit about the film you are working on during your residency?
Currently I'm working on two projects. The first one is in the capacity of a producer, as I am helping my friend make his first film Flow, which observes the phenomenon of peaceful protest and memory. The main character is a TV cameraman who discovers surprising peculiarities of the public memory when trying to create a video film about one of the most powerful moments of his life—the 2020 protest marches in Belarus—for his son's birthday. The other project I am working on is a documentary film called Artem Upbringing. It's a story about the relationship between a father and his adopted son, and their fight with an indifferent world to be together. The film was in development for four years by my colleague Lubov Zemtsova, but after she died in a car accident, I became one amongst a team of enthusiasts who wanted this touching story to become realized in film.
3. What are some of the most interesting things you've learned while working on your film?
The core of any documentary film for me is the person. Through my filmmaking journey, I have understood that if you want to take something from your character you need to give something back; to uncover yourself is one of the most interesting and yet difficult parts of the profession.
4. What do you want viewers to learn from your film?
There are universal topics of beauty in human beings and the struggle with evil that I like to show in my works. But as a Belarusian filmmaker, I want to put my country on the map and shed light on the dramatic events that have unfolded.
5. If you had not had this opportunity, how you would you go about completing your film project?

The residence is the perfect opportunity to look at my own work through a different perspective. It also helps to concentrate my efforts and make the work faster. If I had not had this opportunity, my projects would taken much more time to complete.
6. Which filmmakers or artists do you most admire/draw inspiration from?

Most of all, I like the Polish school of documentaries: Marcel Lozinski, Pavel Lozinski, Jaczek Blawut, and works of the younger generation, for example: The Pawnshop by Lukasz Kowalski.

7. Is there anything else you'd like to add?
Happy to be here.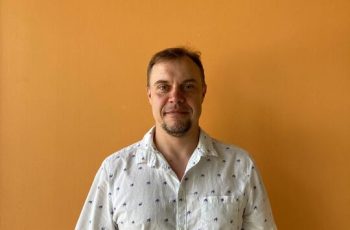 Maksim Shved was born in Minsk, Belarus in 1979. After graduating in 2002 from the Law department of the Belorussian State University and working as a small business owner, he decided to realize his ideas in the film industry. Maksim started his film education in 2013 from an intensive course at St Petersburg High School of Directors and Screenwriters. In 2016, he graduated from the DOC PRO program at Wajda Film School in Warsaw. Now Maksim works in television as the director of the documentary series Welcome to Belarus. He also creates and develops social video and documentary projects.