Creative Culture Artist-in-Residence: Chantel Clark
As a part of our ongoing interviews with Creative Culture Artists-in-Residence at the Jacob Burns Film Center, we recently caught up with Artist-in-Residence Chantel Clark to talk about her current work. 
Thank you to Chantel for taking part in a Q&A on May 26, following the screening of Uncle Boonmee Who Can Recall His Past Lives.
How did this residency come about, and how did you learn about the Burns?
I had heard of the Burns as a jewel of the independent theater world while I was living in New York and studying at Columbia, particularly through professors and mentors who were connected to the late Jonathan Demme. Later I started seeing the Creative Culture logo on short films I admired, and I remember watching the Criterion feature as part of the Art-House America Series around the time I was invited to the residency. I was selected through Creative Culture's partnership with The Sundance Institute, where I was selected for the Screenwriters Lab in 2019,  and I've been invited as the Sundance International Narrative Filmmaker-in-Residence.
What do you hope to accomplish during your residency?
I've spent a long time deconstructing and picking apart my script – to the extent that for almost a year I was unable to put it back together again. This residency has a come at time when, after months of research and rewiring my approach to the script, I have the courage to face it again. I'm hoping to come out of the residency with a draft that feels like the version of the story I had originally envisioned but that I've been having difficulty translating to the page.
What film are you working on during your residency? What is your film about?
I'm working on my first feature script that I took to the Sundance Screenwriters Lab, Wit Gesigte (Pale Faces). The film is set in the late 18th century, in what was then the Dutch Cape Colony. Mythology and folklore weave together the fates of a mysterious Dutch Commissioner and the brilliant daughter of an exiled Imam, unravelling the dark secrets underlying the power of the colonial occupation.
If you had not had this opportunity, how you would you go about completing your film project?
It's difficult to dedicate weeks on end to writing exclusively so an opportunity like this can't always be re-created. If I wasn't here, I think it might have taken me another year to get through this draft. I also have a renewed urgency when I'm away from home to tell South African stories because I'm reminded that there's so much of our history and our collective memory that hasn't been explored. That urgency allows me to write with much more clarity.
Which filmmakers or artists do you most admire/draw inspiration from?
Michelangelo Antonioni's films made me want to be a filmmaker but once I understood the stories I wanted to tell, I drew the most inspiration from Apichatpong Weerasethakul, Djibril Diop Mambéty, and the early films of Peter Weir. I also look at the work of South African visual artists and photographers for inspiration –  from Ruth Seopedi Motau and David Goldblatt's photographs to Jackson Hlungwani's sculptures and Bonnie Ntshalintshali's ceramics. Studying South African literature was also a catalyst in my decision to pursue filmmaking and I always return to Zakes Mda and J.M. Coetzee.
Is there anything else you'd like to add?
I'm grateful for this opportunity and I want to thank the Creative Culture team for their support.  My residency had to be postponed several times due to pandemic travel restrictions, but they were reassuring and encouraging throughout. I'm glad I finally made it and I'm really looking forward to my time here.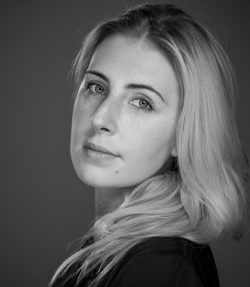 Chantel Clark is a South African director and screenwriter working between Cape Town and New York.  An MFA graduate of the Film Program at Columbia University, her short film, Our Albertinia, was awarded a 2018 National Board of Review Student Grant, as well as the inaugural Columbia University/Big Sky Edit Visionary Award and screened at over 25 international film festivals. She is also the recipient of a Katharina Otto-Bernstein Thesis Film Fund Grant and was selected for inclusion in the ASCAP Foundation 2018 Film Scoring program in collaboration with Columbia University.
She received her Bachelor of Arts in Film and Media Production and her Bachelor of Arts Honours in Television Drama from the University of Cape Town. Chantel is also an ambassador for Girls in Film South Africa.
She is currently developing two feature films, Wit Gesigte (Pale Faces), which was selected for the Sundance Institute's January 2019 Screenwriters Lab, IFP's 41st IFP Week Project Forum, and was made a SFFILM Spring 2019 Rainin Grant Finalist, and A Place Called Paradise, both set in South Africa.
Experimenting with time and collective memory, Chantel's films exist at the intersection of the supernatural and the speculative. Framing fiction through historical research, her narratives play out parallel to significant turning points in South African History.