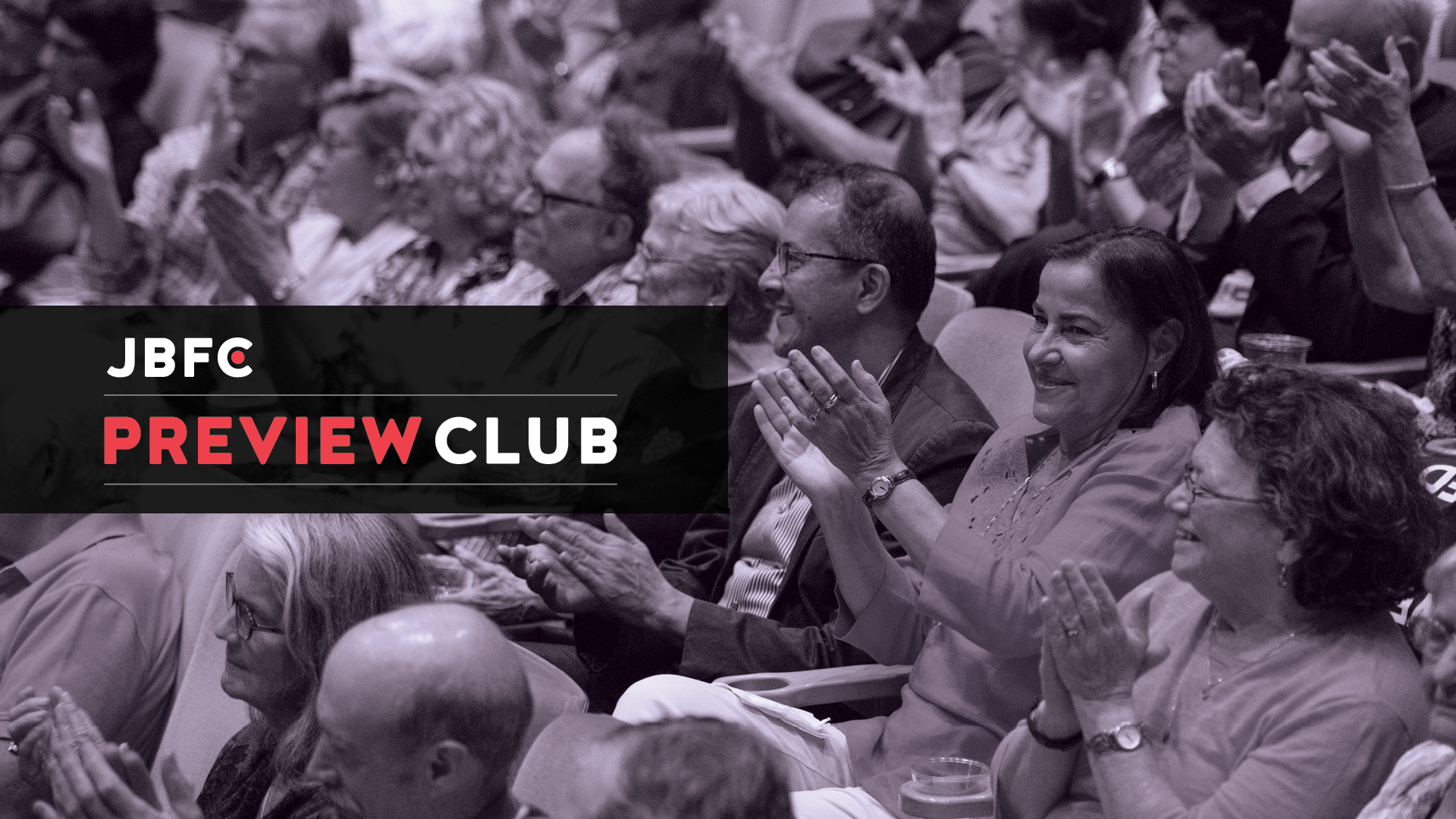 See previews of the newest independent releases— Members can subscribe online now!
Subscribers get an exclusive first look at the most interesting new documentaries, indies, and foreign films, giving them a chance to spread their cinematic wings! Join club host and JBFC film programmer Andrew Jupin for monthly previews of the best new films and little-known treats on the big screen. Along with a new expanded roster of alternating hosts, including Programming Director Brian Ackerman, Executive Director Edie Demas and guest programmers, Andrew enhances your preview experience with an introduction, wrap-up and a written follow up the Wednesday after each evening providing additional background info on each film selection. Continue the conversation in our private Facebook group – subscribers receive an exclusive invitation to the Preview Club Facebook page, where they can chat with other movie-goers!
NEW THIS SEASON The JBFC Preview Club family is expanding! We are adding a number of hosts including Executive Director Edie Demas and Programming Director Brian Ackerman! The start time for each evening is now 7:15 pm.
JBFC members at the Film Buff level and above get first dibs on subscriptions, which always sell out quickly.  Join or upgrade your membership now so you don't get sold out! Call Tara Bongiorno at 914.773.7663, ext. 430 with any questions.
Limited Availability Remaining!
The Preview Club always sells out in advance, so subscribe early!
Each evening of the JBFC Preview Club begins at 7:15 pm with an introduction by the host, who announces the film selection at that time. The surprise element is one of the fun highlights of this preview club, giving viewers the opportunity to discover films they might ordinarily miss. The host also gives a brief wrap-up after the film.
The preview club meets monthly at 7:15 pm on a previously scheduled Monday or Tuesday (subscribers subscribe to a specific series of dates).
The club is available to Jacob Burns Film Center members by subscription only.
It is available as a 6-month series ($120 per person) or a 3-month series ($60 per person) in two seasons: Jan.-June and July-Dec.
Subscriptions are initially sold during an advance Priority Purchase period to JBFC members at the Film Buff level and up, every April and October.
The six-month option is offered as a Priority Purchase benefit to Film Sponsor, Film Enthusiast and Silver Screen Circle members of the film center.
The three-month option is offered as a Priority Purchase benefit to Film Buff members.
Any six-month subscriptions remaining at the end of the Priority Purchase period are offered to Film Buffs first come, first serve in the order subscriptions were received.
Dates for the upcoming July-December 2018 season are:
Mondays: July 9, Aug.6, Sept. 24, Oct. 15, Nov. 5, Dec 3
Tuesdays:  July 10, Aug. 7, Sept. 25, Oct. 16, Nov. 6, Dec. 4
What Film Club Subscribers Are Saying
Via comment cards and our Facebook group, JBFC Film Club subscribers take part in an ongoing discussion. Current subscribers: Email us additional thoughts! Here are some recent comments:
"Easy enjoyable. Didn't beat us over the head. Great actors. " (Hearts Beat Loud)

"Loved it, great Indie pic We love Andrew. He is fun and incredible knowledgeable. His picks are very varied and he tries to take everyone taste in considers. Thanks Andrew." (Outside In)

"Loved the book and thought the movie was beautiful. " (On Chesil Beach)
Have other questions? Visit our FAQ.
GIFT CARDS
We're sorry, but gift card purchasing is currently undergoing maintenance. Please check back again soon! We apologize for the inconvenience.