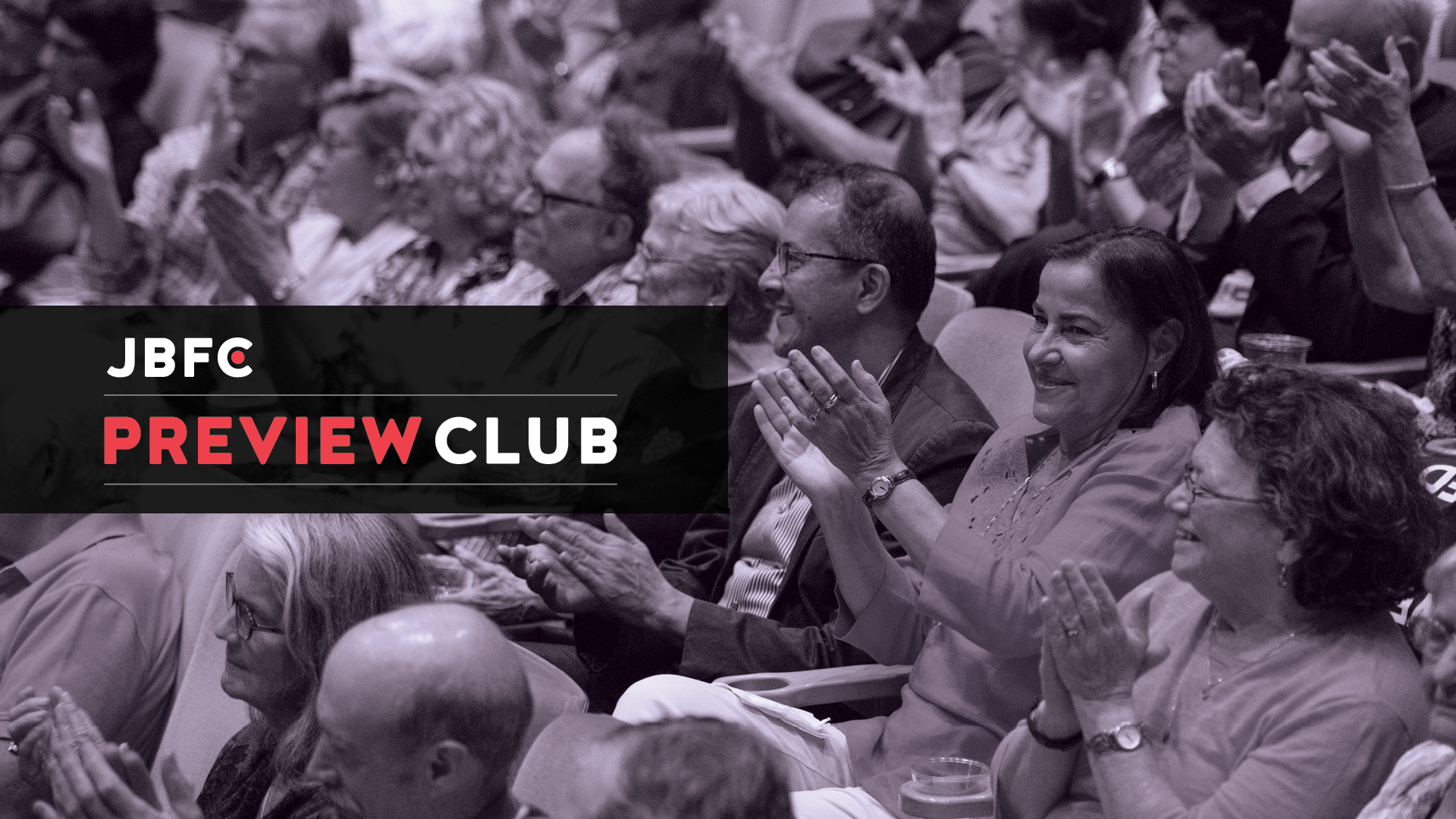 The place for movie lovers who like to talk about films as much as they like to see them!
Join host Andrew Jupin for monthly previews of the best new films and an opportunity to spread your cinematic wings. Andrew, a JBFC film programmer and adjunct film professor at Westchester Community College, adds foreign titles, documentaries, and little-known treats to the mix. Continue the conversation in our private Facebook group after the screening – all subscribers receive an exclusive invitation to the Film Club Facebook page, where they can chat with other movie-goers about all things Film Club!
JBFC members at the Film Buff level and above get first dibs on subscriptions, which always sell out quickly.  Join or upgrade your membership now so you don't get sold out! Call Tara Bongiorno at 914.773.7663, ext. 430 with any questions.
Limited 3-month series available now to members! The Preview Club always sells out in advance, so subscribe early!
Each evening of the JBFC Preview Club begins at 7:30 pm with an introduction by the host, who announces the film selection at that time. The surprise element is one of the fun highlights of this preview club, giving viewers the opportunity to discover films they might ordinarily miss. The host also gives a brief wrap-up after the film.
The preview club meets monthly at 7:30 pm on a previously scheduled Monday or Tuesday (subscribers subscribe to a specific series of dates).
The club is available to Jacob Burns Film Center members by subscription only.
It is available as a 6-month series ($120 per person) or a 3-month series ($60 per person) in two seasons: Jan.-June and July-Dec.
Subscriptions are initially sold during an advance Priority Purchase period to JBFC members at the Film Buff level and up, every April and October.
The six-month option is offered as a Priority Purchase benefit to Film Sponsor, Film Enthusiast and Silver Screen Circle members of the film center.
The three-month option is offered as a Priority Purchase benefit to Film Buff members.
Any six-month subscriptions remaining at the end of the Priority Purchase period are offered to Film Buffs first come, first serve in the order subscriptions were received.
Dates for the upcoming January-June 2018 season are:
Mondays: Jan. 8, Feb. 5, March 5, April 9, May 7, June 4
Tuesdays:  Jan. 9, Feb. 6, March 6, April 10, May 8, June 5
What Film Club Subscribers Are Saying
Via comment cards and our Facebook group, JBFC Film Club subscribers take part in an ongoing discussion. Current subscribers: Email us additional thoughts! Here are some recent comments:
"I liked the film. It was light and funny and we got the bonus of seeing the Spanish countryside and delicious food." (The Trip to Spain)

"The story was difficult and dark, but the film was brilliant. Acting was first rate, and the camera brought into the conflict in a disturbing way." (After Love)

"Great film–I remember the event and this captured it. " (Battle of the Sexes)

"Jane has always been inspiring in many ways and the intensity of her commitment was so well represented in film. Appreciate the chance to see it on the big screen and learn more about it." (Jane)
Have other questions? Visit our FAQ.
GIFT CARDS
We're sorry, but gift card purchasing is currently undergoing maintenance. Please check back again soon! We apologize for the inconvenience.