Lab Field Trips
This brand new program opens the doors to our Media Arts Lab and welcomes local students to engage with film and storytelling techniques through film analysis and hands-on, project based learning. Each workshop includes active film viewing, discussion, a media making activity, and a presentation. Join us for one of these engaging and exciting educational experiences!
Lab Field Trip: Show, Don't Tell
Location: The JBFC Media Arts Lab
Cost: $20/Student or FREE for under-resourced schools
Time: 9:30 AM–12:30 PM
Capacity: 30 Students (Max)
Grades: 5th-12th
Lab Field Trips: Information for Schools
Bring your class to the JBFC's Media Arts Lab to participate in a hands-on filmmaking workshop introducing students to the foundational storytelling technique of "Show, Don't Tell." This film and literary technique empowers the viewer to experience a story through actions, senses, and feelings rather than exposition, dialogue, and description.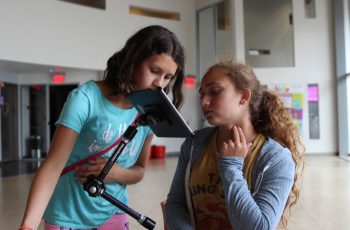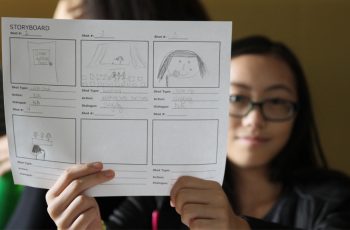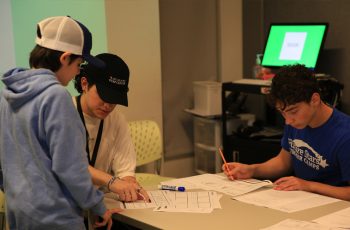 Over the course of a 3 hour workshop, students will engage with short films exploring the "Show Don't Tell" technique, learn basic shot type language and storyboarding skills, and make a short scene of their own. The entire experience culminates in a celebratory screening of the day's projects in the Lab's onsite movie theater.
Goals:
Practice 21st century skills
Understand how media is made and impacts us
Practice storytelling and empathy building
Strengthen an understanding of visual literacy
Build film language
Create and share a group film project
Skills:
Project-based Creative Teamwork
Critical and Active Viewing or "Landmarking"
Storytelling Technique of "Show, Don't Tell"
Filmmaking Techniques & Language: Shot Types
Filmmaking Process: Pre-production (Storyboarding), Production, Post-production
Technical Skills: Filming and Editing (iPad)