FREE Family Saturdays @ The Lab
Drop by the JBFC Media Arts Lab between 10:30 am–12:30 pm on the select Saturdays (Nov., Dec., March, and April) for our Family Saturdays @ the Lab program! Each month's event features three FREE, hands-on media activities for students ages 3–13. With the help of our faculty and staff, media-makers of all ages can explore, discover, and create amazing projects. We offer a wide variety of activities, from animation and sound editing to live green-screening and group storytelling projects!
Spring 2019 Family Saturdays @ the Lab Schedule
April 6 – Green Screens

Live green screens
Character green screens
Film Pod
And more!
Please note: This event is FREE and open to the public. No registration is necessary – just sign in when you arrive, and remember to bring your JBFC Kids stamp card! As an added membership benefit, all card-carrying JBFC Members at the Film Family level and above are invited to join us at 10:00 am for early entry.
FAQs:
WHEN DOES FAMILY SATURDAYS @ THE LAB RUN?
Family Saturdays @ the Lab are held on select Saturdays from October through April from 10:30 am–12:30pm.
WHAT IS THE FORMAT OF FAMILY SATURDAYS @ THE LAB?
We offer a drop-in schedule, so you may arrive to the Media Arts Lab whenever you like. Most families spend approximately 45 minutes at the event. Each month we explore a new film-related theme. Each of the three featured activities will be centered on that theme. Our faculty and staff will guide your media-making with a brief demonstration of each of the projects, and all materials will be provided.
WHAT IS THE MEDIA ARTS LAB?
The Media Arts Lab, located down the street from the JBFC Theater in Pleasantville, NY, is the hub of our education initiatives. This 27,000-square-foot production space features state-of-the art technology, including an animation studio, a fully equipped soundstage, a recording studio, workshop space, a 60-seat screening room, 16 editing suites, and an equipment room stocked with audio and visual capturing technology. Our building is wheelchair accessible and there are a limited number of cubbies available to you for storage.
ARE THERE ANY PERKS FOR MEMBERS?
JBFC members at the Film Family level and above enjoy a special "early-bird perk" at each Family Saturday @ the Lab, and are welcome to enter 30 minutes before the general public, starting at 10:00am. Find out more about JBFC Membership levels and benefits online.
WHAT TYPES OF ACTIVITIES CAN BE EXPECTED?
Each month's Family Saturday @ the Lab features three hands-on activities. All of our activities encourage thoughtful and engaged media production. Past activities include: sound editing in our recording studio, 2D and 3D animation filmmaking, a virtual rock band on iPad instruments, hand-made film strip coloring and live projection, recycled instrument electric guitars, an augmented reality sandbox, live green-screening, and an interactive digital puppet show (just to name a few!).
HOW DO THE ACTIVITIES DIFFER EACH MONTH?
Each Family Saturdays @ the Lab event is designed around a specific theme. Past themes have included sound, character, and lighting, among others.
IS THERE AN AGE LIMIT FOR FAMILY SATURDAYS @ THE LAB?
We do our very best to provide an all-ages experience. Many of our featured activities are best suited for children ages 3–13, but we strongly encourage guardian participation! Your attention, encouragement, and enthusiasm will positively contribute to your child's experience at the Media Arts Lab.
CAN I KEEP THE MEDIA I MAKE?
Yes! All digital media creations will be distributed to you after the event via a download link, which you can use to save or share your original projects. The download link is emailed to the address provided on our Family Saturday sign-in sheet, so make sure to sign in when you arrive at the Lab!
WHY ARE THERE NO FAMILY SATURDAYS @ THE LAB FROM MAY THROUGH SEPTEMBER?
We take a warm-weather break from May through September because at that time, our Media Arts Lab is filled with over 100 excited campers in grades 3–12! Our Summer @ the Lab program runs M–F from 9:00–4:00 pm. Although our Family Saturdays @ the Lab program goes on hiatus during this time, our JBFC Kids programming is year-round!
ARE THERE OTHER FAMILY PROGRAMS AT THE JBFC?
Yes! Through our JBFC Kids program, we offer a variety of campus-wide activities for families. We've made the theater-going experience more inviting for kids with monthly, family-friendly screenings at our five-theater cinema, and we offer a wide variety of courses and workshops year-round for students of all ages. Check out the JBFC Kids page on our website to stay up-to-date on all JBFC Kids screenings and events!
Can't get enough JBFC? Check out our general film programming calendar to find out what movies will be playing the day of your visit.
Family Saturdays @ The Lab is proudly presented by JBFC Kids.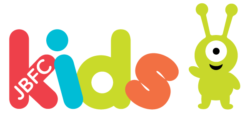 JBFC Kids Community Partner: