Artist-in-Residence: Lindsey Ryan
As a part of our ongoing interviews with Artists-in-Residence at the Jacob Burns Film Center, we recently caught up with Artist-in-Residence Lindsey Ryan to talk about her current work.
1. How did this residency come about, and how did you learn about the Burns?
I have actually followed the center since I was a kid! I grew up on Long Island and discovered my passion for filmmaking at a young age, so naturally that led me to discover the center. I didn't have the chance to attend any of the camps as a kid but it's really coming full circle now as I venture to make my first feature film! I landed here at the residency after being recommended for the Artist in Residence program by a fellow filmmaker.
2. Can you tell us a bit about the film you are working on during your residency?
I am working on my debut feature film, which is currently titled Capsized. It tells the story of Nicole, a 19-year-old who sits at the center of a dysfunctional family of 7, whose reality is turned upside down when their home is abruptly lost in a foreclosure sale. As they take to the houseboat for another misguided adventure, Nicole struggles with her identity and coping with a bipolar father with a narcissistic personality disorder.
3. What are some of the most interesting things you've learned while working on your film?
Hmm – that's a hard one! This project has a water theme, which I've explored quite a bit in my work (much to my producer's dismay, lol!) – and with that, I will say I have learned a lot about the intricacies of fishing tournaments. I grew up in that world so a lot of it was familiar to me, but as I dug a bit deeper I found out about a lot of interesting rules that surround the entry requirements, prize brackets, and just overall tournament rules. I was looking really specifically at this tournament in Maryland called the "White Marlin Open": the basic entry fee is $1,250 and it goes up from there depending on which skill level a boat decides to enter with. The larger the entry fee, the bigger the winnings can be. There are also really detailed rules about how one can fish, i.e. you can't use certain equipment. If you've never been to a fishing tournament, I highly recommend you check it out. It's such a strange thing to experience!
4. What do you want viewers to learn from your film?
I hope that there is a storyline in this film that everyone can relate to. It's a film that explores family dysfunction in a way that most everyone can understand. I want viewers to come away from this film feeling seen and understanding that becoming an independent adult sometimes involves boundaries and standing up for yourself with family members.
5. If you had not had this opportunity, how you would you go about completing your film project?
This experience has been revolutionary. Being in the rewrite stage is the most challenging for me and having the space for this sort of deep focus is integral. Your brain is constantly testing you with distractions and great work is always on the other side of them, so with that I am incredibly grateful for the space to create away from all distractions.
6. Which filmmakers or artists do you most admire/draw inspiration from?
This is always a hard one! There are so many filmmakers I really love but if I had to boil it down to a few I would say: Reed Morano (of course), Damien Chazelle, Kathryn Bigelow, Ari Aster, Bong Joon-Ho, Steven Spielberg, and Wes Anderson. I will pretty much race to see anything from these incredible directors. In terms of personal inspiration, I really connect with Robert Eggers, Céline Sciamma, and Damien Chazelle: there is something in each of their perspectives that I really gravitate towards and find myself recreating in my own work.
7. Is there anything else you'd like to add?
Filmmaking is incredibly difficult and I think there are endless adversities to face when trying to pave your path. I'm so grateful for all of the programs that help bolster and support the makers in the world.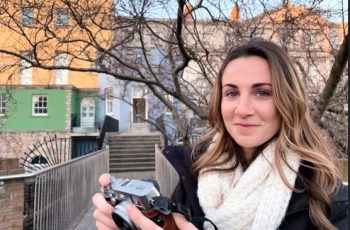 Lindsey Ryan is a filmmaker currently based in Brooklyn, New York. After graduating from Hofstra University with a BS in Film and Television, she began working for the critically acclaimed director Reed Morano. Her recent credits include What About David?, a short film about mental health that is currently going the festival circuit, and Seasick, an LGBTQ+ short film about a ferry deckhand who sends a love-confessing text message, starring Pauline Chalamet. Seasick has played many festivals, such as Palm Springs Short Fest, Outfest, and DC Shorts, and won several awards, including Best 1st Time Director, Best Actress, and Best LGBTQ Short. In 2020 she creative produced Leylak, a short film that went on to win Tribeca Film Festival's Grand Jury Award and was in consideration for the 2022 Oscar predictions. Lindsey is an alumnus of The Australian International Screen Forum's Women in Screen Workshop and is currently in development with her feature film Capsized, which was in second-round consideration for the 2023 Sundance Development labs.