By Marketing Associate/Adapted: Page to Screen Curator Sarah Soliman
As we gear up for spending an increased amount of time at home, movies, books, and television are high on the list of ways to pass the time. At the Burns we're especially fond of films that begin life as books, as anybody who's joined us for the Adapted: Page to Screen series can tell you. While it's not possible for us to sit and watch films together, we can still watch some incredible adaptations (all the recommendations here are available on a streaming platform) and read the books they're inspired by.
A great resource during this time is the Westchester Library System. If you have a library card you can use Libby, an app that allows you to borrow ebooks and audiobooks from the comfort of your couch. You also have access to Kanopy, a streaming service with a collection that JBFC audiences will love.
A Very English Scandal (Amazon Prime)
True crime is all the rage right now, and one of the most intriguing examples is John Preston's book about British politician Jeremy Thorpe and the lengths he went to in order to cover up his affair with stable hand Norman Scott. The miniseries stars Hugh Grant as Thorpe and Ben Whishaw, who won an Emmy, a BAFTA, and a Golden Globe for his performance as Norman Scott.
Brighton Rock (Kanopy)
Graham Green's Brighton Rock is a classic of the crime genre. The 1948 adaptation, starring Richard Attenborough, is one of the great gangster films, making it into the British Film Institute's list of the Top 100 British films.
Bringing Out the Dead (Amazon Prime, Kanopy)
Joe Connelly's best-selling autobiographical novel was adapted into a Martin Scorsese film with a script by Paul Schrader. An underrated piece of Scorsese's filmography, Bringing Out the Dead is also one of the filmmaker's darkest, most chaotic, and most compelling works.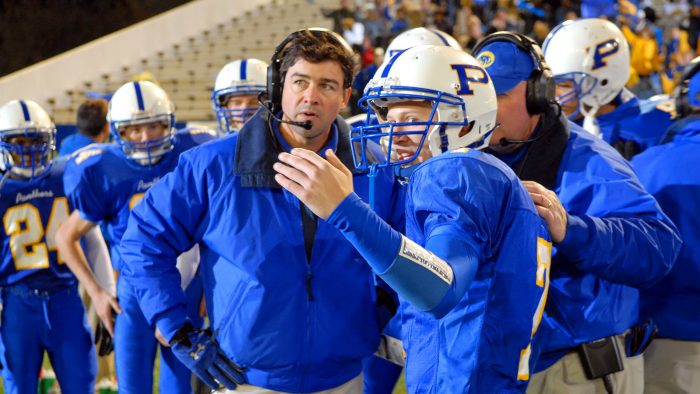 Friday Night Lights
Friday Night Lights (Hulu, Amazon Prime)
One of Sports Illustrated's Greatest Books About Sports, Friday Night Lights inspired one of the greatest TV shows too. This is a great time for comfort TV, and, in my opinion, there's nothing more comforting than some time spent in the presence of Kyle Chandler's Coach Taylor.
Good Omens (Amazon Prime)
This six-episode miniseries was so delightful that immediately after watching it I borrowed the audiobook from the library. Shortly after I read the novel. Neil Gaiman and Terry Pratchett at are the top of both their games in terms of language, characters, and world building, all of which the miniseries translates perfectly on screen.
The Guernsey Literary and Potato Peel Pie Society (Netflix)
This New York Times bestseller gives a peak into the lives of a writer from London and a group of friends from the island of Guernsey, whose residents lived under German occupation during WWII. In addition to the mystery and romance of the novel, the film adaptation features gorgeous, sweeping scenery and a stellar central performance from Lily James.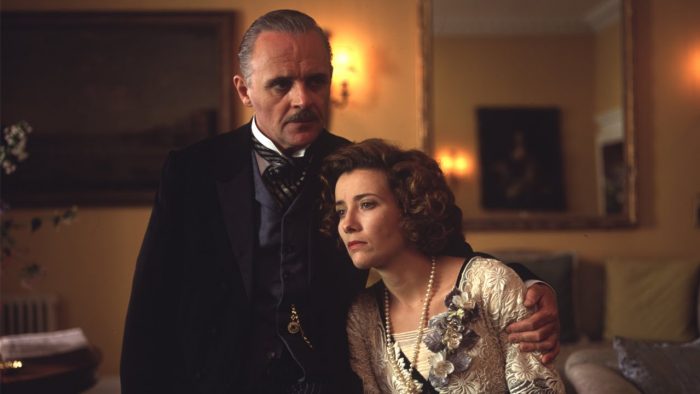 Howard's End
The Handmaiden (Amazon Prime)
Sarah Waters' twisty, perspective-shifting novel Fingersmith was adapted by South Korean filmmaker Park Chan-wook into ravishing thriller that demands multiple viewings.
Howard's End (Netflix)
Whether the classic E.M Forster novel and subsequent Merchant Ivory production are old favorites or you're yet to discover them, you've got a perfect opportunity to sit down with Forster's masterpiece or the Academy Award-winning film.
Justified (Hulu)
Elmore Leonard's short story "Fire in the Hole" was the inspiration for this television show, but the entire collection, When the Women Come Out to Dance, is worth reading. Justified itself is hilarious, gritty, heartbreaking, and beautiful—a hybrid that captures Leonard's writing in a way you won't quite find anywhere else.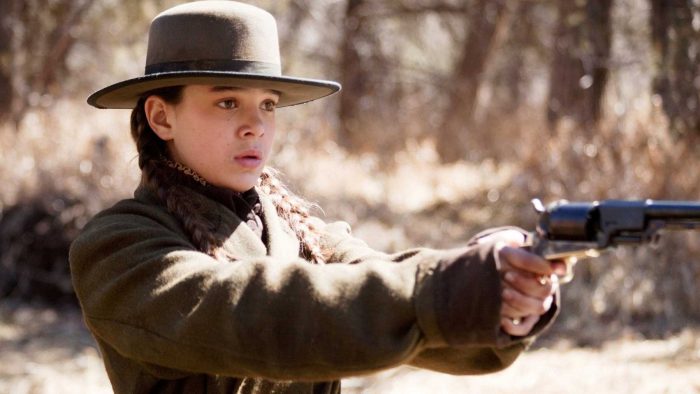 True Grit
Our Souls at Night (Netflix)
Best known for his novel Plainsong, which won the National Book Award, Kent Haruf's most recent novel was turned into a film with the ever-watchable Robert Redford and Jane Fonda.
The Sisters Brothers (Hulu)
This rollicking romp of an adventure novel was turned into a film starring Joaquin Phoenix and John C. Reilly as the titular brothers. At turns hilarious and tragic, this unusual Western also features a supporting turn from Jake Gyllenhaal.
True Grit (Amazon Prime, Hulu)
Speaking of unusual Westerns, Charles Portis' True Grit offers deadpan humor along with one of the greatest literary characters ever conceived: Mattie Ross, played to perfection by Hailee Steinfeld in the Coen brothers' 2010 adaptation.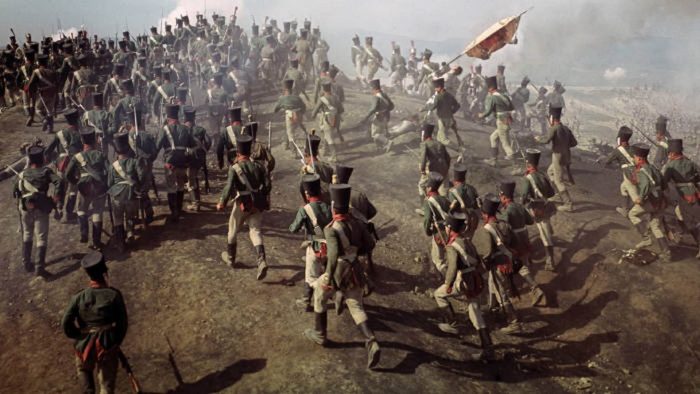 War and Peace
You (Netflix)
We all need a page-turner now and then, and Caroline Keepness' You is a razor-sharp, truly terrifying thrill ride, which Netflix turned into creepy can't-look-away fun with its TV series.
War and Peace (Criterion Channel)
As we find ourselves with an abundance of time on our hands, perhaps some of us are up to the challenge of tackling this behemoth of a book. And if not, perhaps Sergey Bondarchuk's eight-hour film can fill up those hours instead. And a bonus for theater fans: you can listen to the Original Broadway Cast recording of Natasha, Pierre, & the Great Comet of 1812, a musical based on a small section of War and Peace.
Wonder Boys (Kanopy)
Both Michael Chabon's novel and Curtis Hanson's film are full of laughs, with a healthy helping of melancholy as well. Set in the world of academia and literature, the book and film will resonate with bibliophiles everywhere.