Please note that check-in begins at 8:30 pm. We strongly encourage you to arrive at that time to collect your credentials, register for the costume contest, grab a drink, and mentally prepare yourself for a terrifying (and fun!) night at the movies!
Get ready to stay up all night as we present our fourth annual Halloween Marathon! Hosted by JBFC Senior Programmer Andrew Jupin, you won't want to miss out on this selection of restored classics, oddball gems, and new favorites–and maybe even a few surprises. There will be a costume contest and activities in the Jane Peck Gallery, and we'll also have the concession stand open all night with plenty of coffee!
Please note, there will be a 20 minute intermission after the screening of Them (ILS).
Tickets: $40 (members/students), $50 (nonmembers).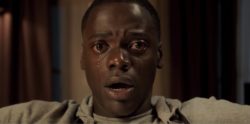 GET OUT
Dir. Jordan Peele. 2016. 108m. R. US/English. Universal Pictures.
Chris (Daniel Kaluuya) and his girlfriend, Rose (Allison Williams) spend a weekend getaway upstate with her parents, Missy (Catherine Keener) and Dean (Bradley Whitford). As the weekend progresses, a series of increasingly disturbing discoveries lead him to a truth that he could have never imagined. From the mind of writer/director Jordan Peele (Keanu), Get Out is the perfect example of how genre filmmaking can and should be used to make important social commentary.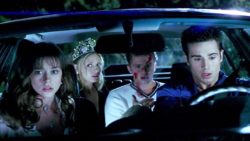 I KNOW WHAT YOU DID LAST SUMMER
Dir. Jim Gillespie.1997. 101m. R. US/English. 35mm. Sony Pictures Entertainment.
This screening will be accompanied by a live running commentary from the cast of the We Hate Movies comedy podcast. Named "Best Podcast of 2016" by The A.V. Club readers' poll, We Hate Movies, has been reveling in so-bad-it's-good cinema since 2010.High school senior, Julie (Jennifer Love Hewitt), is driving with her best friends—Helen (Sarah Michelle Gellar), Barry (Ryan Phillippe) and Ray (Freddie Prinze Jr.)—when their car hits a fisherman standing in the middle of the road. Assuming he's dead, they throw the body in the water and vow never to speak of the accident again. A year later Julie receives an anonymous note simply saying, "I know what you did last summer!" I Know What You Did Last Summer is an over-the-top thriller that's aged about as well as you'd expect.
SUSPIRIA
Dir. Dario Argento. 1977. 98m. R. Italy/English dub. 20th Century Fox.
A candy-colored nightmare from Italian terror maestro Dario Argento, Suspiria weaves a menacing tale of witchcraft as a fairy tale gone horribly awry. When American ballet-dancer Suzy Banyon (Jessica Harper) arrives in Germany to attend the prestigious Tans Academy she senses that something horribly evil lurks within the walls of the age-old institution.Presented in a brand-new, 40th anniversary, 4K restoration courtesy of Synapse Films, please note that the version being screened is the extended cut with an English language dub.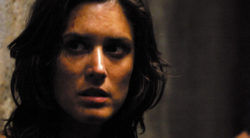 ILS (THEM)
Dir. David Moreau/Xavier Palud. 2006. 77m. R. France/Romania. French/Romanian with subtitles. 35mm. MPI Media.
Clémentine (Olivia Bonamy, Read My Lips) and Lucas (Michaël Cohen, It Begins with the End) are a young couple leading a quiet life in the Romanian countryside. On this particular weekend, they're excited to sit at home and relax. As night falls, the couple will come face to face with: THEM. They are everywhere, even inside their home. Who are they? What do they want? The answers will take the couple to the very limits of fear itself. You'll never feel safe in your home again. Presented in 35mm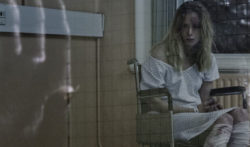 NAILS
Dir. Dennis Bartok. 2017. 85m. NR. Ireland/English. MPI Media.
Nails is the story of Dana Milgrom (Shauna Macdonald, Filth, The Descent), a track coach and mother who survives a near-death car accident, only to find herself paralyzed and trapped inside her own body. She becomes convinced that a malevolent presence called Nails exists inside her hospital room. As her grip on reality starts to shred, Dana fights to convince the doctors and staff that Nails is real and intent on destroying her and everyone else.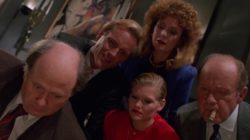 SOCIETY
Dir. Brian Yuzna. 1989. 99m. NR. US/English. 35mm. American Genre Film Archive.
Blood, gore and violence abound when a wealthy teenager learns the awful truth about his family after undergoing weeks of paranoid psychological torment. Bill Whitney (Billy Warlock, Baywatch) journeys down a dark and twisted path after discovering his family is part of a vile, murderous cult. The directorial debut of producer, Brian Yuzna (Re-Animator, Dolls), Society is a depraved journey into a world where the rich feed off the poor—literally.35mm print provided courtesy of the American Genre Film Archive (americangenrefilm.com) & Brian Yuzna.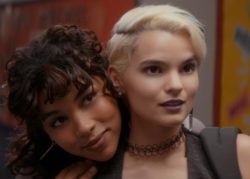 TRAGEDY GIRLS
Dir. Tyler MacIntyre. 2017. 98m. R. US/English. Gunpowder & Sky.
Tragedy Girls follows two death-crazed teenage girls who use their online show about real-life tragedies to send their small mid-western town into a frenzy while cementing their reputation as modern horror legends. Best friends Sadie (Brianna Hildebrand, Deadpool) and McKayla (Alexandra Shipp, X-Men: Apocalypse) kidnap their town's Michael Myers-esque serial killer and move in on his murderous territory in this hysterical new film that plays like a mash-up of Scream and Heathers.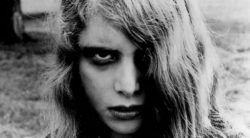 NIGHT OF THE LIVING DEAD
Dir. George A. Romero. 1968. 96m. NR. US/English. Janus Films.
There is panic throughout the nation as the dead suddenly come back to life in George A. Romero's seminal horror classic. As the dead rise from the grave to feed on the living, a group of survivors barricade themselves in an old farmhouse in an attempt to remain safe. Hailed as one of the masterworks of 20th century horror filmmaking, Night of the Living Dead is not only a bone-chilling tale of dread and paranoia, but also a cutting commentary on American social injustice and civil rights.Night of the Living Dead was restored by The Museum of Modern Art and The Film Foundation. Funding provided by the George Lucas Family Foundation and the Celeste Bartos Fund for Film Preservation. The restoration was overseen by George A. Romero and Image Ten—most especially, Gary Streiner, Russ Streiner, and John Russo—with restoration work done by Cineric Inc, NYC, and Audio Mechanics, Burbank, CA.