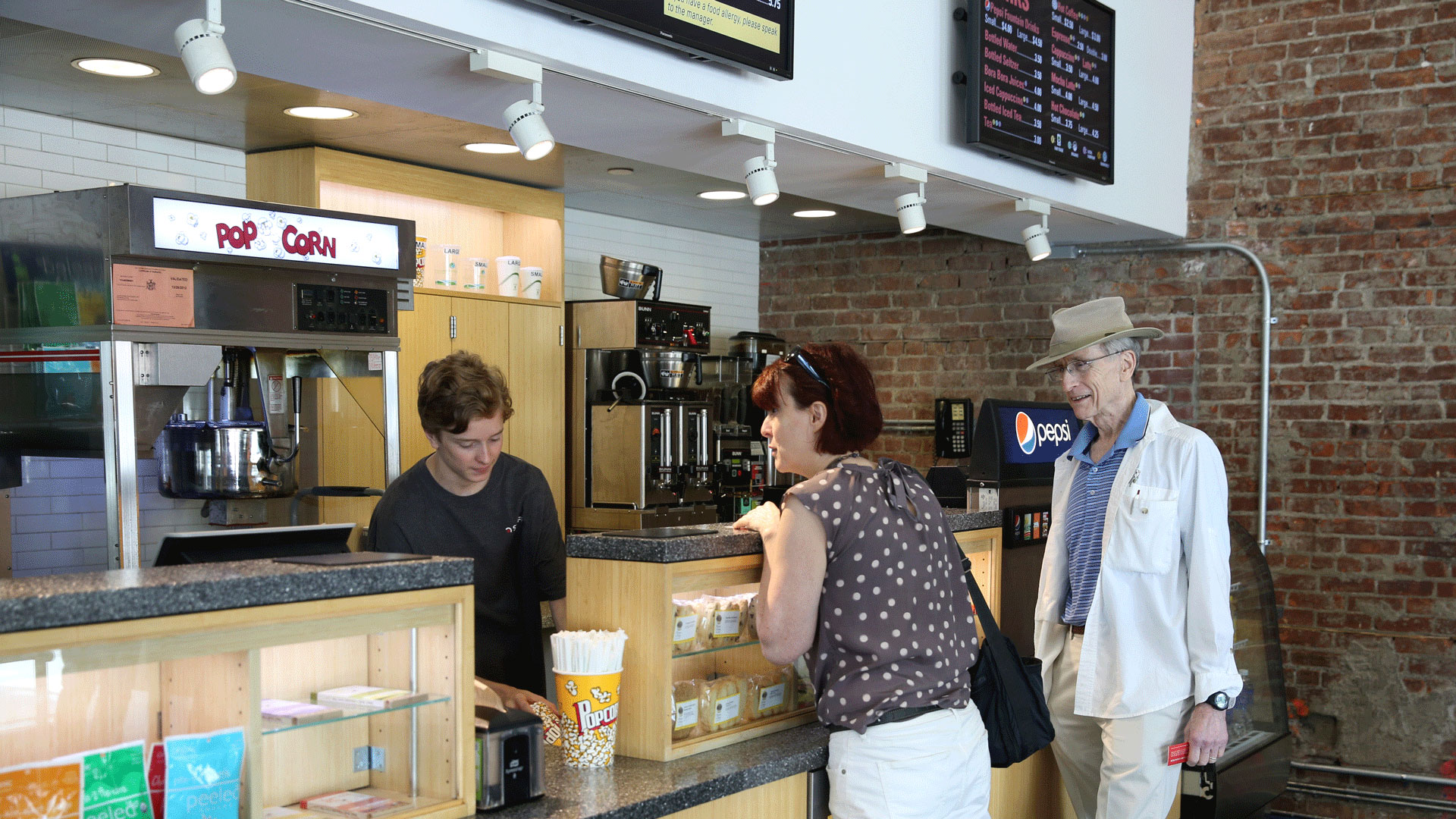 The JBFC Theater concession stand offers classic movie theater favorites, in addition to a wide selection of delicious local, organic, vegan, and gluten-free snacks.
We are well known for our hot, fresh popcorn, which we make in-house several times daily. We start with non-GMO popcorn kernels, pop with 100% canola oil that is free of trans fats, and add only a little salt. Real butter topping is available by request, as well as a variety of complimentary popcorn seasonings.
We pride ourselves on being a green business that minimizes its impact on our environment. Almost all of our cups and paper goods are compostable and/or sustainably produced, and we recycle everything we can.
Here are a few highlights of our concession stand menu. Please see our in-theater menus and displays for the full range of delicious snacks available. If you have any food allergies, please ask to speak to a manager. 
MOVIE THEATER FAVORITES
Popcorn
Candy
Ice cream
Baked goods
Fountain soda
Bottled drinks (water, seltzer, juices, iced teas)
Coffee, tea
LOCALLY MADE PRODUCTS
Flour & Sun Bakery (Pleasantville, NY)
BobbySue's Nuts (Chappaqua, NY)
Bear Mountain Coffee Roasters (Yorktown, NY)
Hudson Valley Naturals Chocolate (Rhinebeck, NY)
Lola Granola Bars (Croton Falls, NY)
Harney & Sons Fine Tea (Millerton, NY)
Greyston Bakery (Yonkers, NY)
ORGANIC SELECTIONS
Bear Mountain Coffee Roasters*
Harney & Sons Fine Tea*
Hudson Valley Naturals Chocolate*
*also Fair Trade Certified
GLUTEN-FREE SNACKS
Popcorn
Lola Granola Bars
BobbySue's Nuts
Flour & Sun brownies
Select candies (please ask for assistance)
VEGAN SNACKS
Popcorn
Lola Granola Bars (contains honey)
Greyston Bakery Vegan Fudge Brownie
Select candies (please ask a staff member for assistance)
To ask questions, offer suggestions, or provide general feedback about our concession stand, please contact us at inquiries@burnsfilmcenter.org.
GIFT CARDS
We're sorry, but gift card purchasing is currently undergoing maintenance. Please check back again soon! We apologize for the inconvenience.